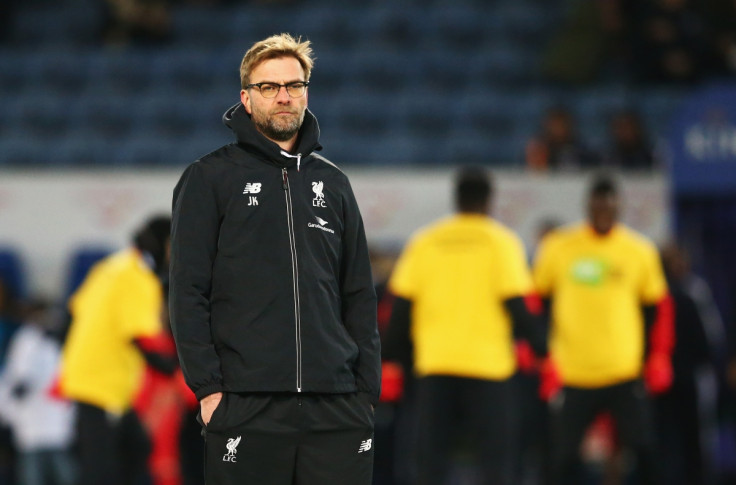 Jurgen Klopp has admitted he came close to applauding Jamie Vardy's goal-of-the-season contender against his Liverpool side on 2 February. The Reds boss watched on as Vardy took his goal tally in the league to 18, and the German revealed he was especially impressed with Vardy's stunning volley.
Leicester cemented their place at the top of the Premier League with a 2-0 win at the King Power Stadium. Klopp subsequently described Vardy's first goal was a "world class" effort.
"Things like this happen when you are in such a good moment like Jamie Vardy and Leicester are," Klopp said, as quoted by Sky Sports. "Obviously you need a little bit of luck but it was really good. First of all you need to be brave enough to do it.
"It's the perfect season for Leicester and the perfect season for Jamie Vardy. They deserve every point they get and Jamie has deserved every goal he's scored until now. I was close to clapping my hands to be honest but I just felt too bad at that moment."
Klopp claimed the game was decided by fine margins, citing a chance for Emre Can and Alberto Moreno's low cross that nearly caught out Foxes goalkeeper Kasper Schmeichel as cases in point. "At the end, the game is decided by a world-class goal from Jamie Vardy," he added. "One second before we were in their box and we didn't shoot. That maybe shows you the difference.
"I think we had a good plan and a good style of play. The way we forced ourselves to play football was important. Even when they pressed in the first half we played and then they had to run.
"We had a lot of opportunities to cross but our crosses were not exact. We then had some situations when we could have passed but we shot and others where we could have shot but we passed. It was not 10 clear-cut chances and so I don't feel too good at this moment."