Liverpool manager Jurgen Klopp has expressed his frustration with the recent injury sustained by Adam Lallana while away on international duty, although does not appear to lay the blame for such a crucial temporary loss at the door of England counterpart Gareth Southgate.
Unquestionably one of Liverpool's most influential players in 2016-17, Lallana, who has also become a pivotal performer for the Three Lions, will miss this weekend's Merseyside derby showdown with Everton and is expected to be sidelined for approximately one month as the result of a thigh problem sustained during a routine 2018 World Cup qualifying victory over Lithuania at Wembley Stadium. He also started the narrow friendly defeat to Germany in Dortmund four days earlier.
No doubt acutely aware that Lallana previously sat out three matches earlier this season after a sparkling, goal-scoring outing in November's last-gasp friendly draw with Spain was ended prematurely by a calf issue, Southgate is said to have initiated clear-the-air talks with Klopp earlier this week.
"It is absolutely normal to have contact with manager of the national team," the German was quoted as saying by Sky Sports at his pre-Everton press conference when asked about that discussion. "We both share players. Of course, I wasn't happy.
"I couldn't be less relaxed about this, but it's not about blaming Gareth Southgate. I wasn't happy that Lallana played on Wednesday, but it's not my decision.
"It's always about fixtures, when we play who and the players have to do the work. Sometimes things like this happen. German players were also injured in the game. Their coaches aren't happy either. We can handle situations better if we work together. We can all say 'they earn that much', that's true, but it doesn't help in those situations. We aren't the only team to suffer."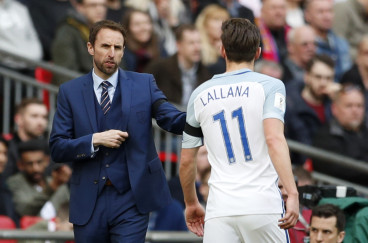 Lallana has made 31 appearances across all competitions for Liverpool so far this term, scoring seven goals and providing as many assists. In February, the former Southampton captain was rewarded for his fine form with a new long-term contract believed to be worth approximately £150,000-per-week.
With that 228th Merseyside meeting now less than 24 hours away, Klopp was inevitably asked about the form of Everton talisman Romelu Lukaku. Graeme Le Saux controversially mentioned Liverpool as a potential landing spot for the contract rebel during a recent punditry stint on Match of the Day, although that is clearly not something that has been considered.
"I like him he is a very good striker," Klopp said, per the Liverpool Echo. "I have never thought about players from other teams that we cannot reach. He is from Everton. I do not know about how many players moved between the clubs. He is a really good striker. He has our respect. He needs passes, support from other players. How can we avoid this? [That's] my main thing."