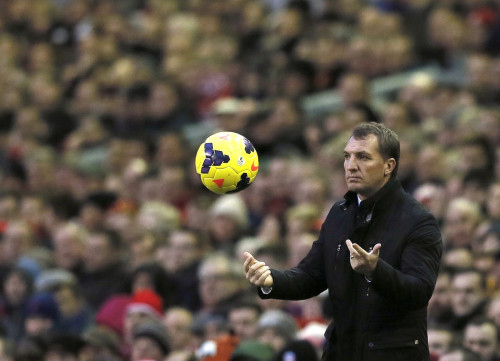 Liverpool manager Brendan Rodgers has launched a scathing attack on the mind games between Chelsea boss Jose Mourinho and Arsenal's Arsene Wenger which are threatening to consume the race for the Premier League title.
The war of words between Mourinho and Wenger came to a head when the Blues boss said the Frenchman was "a specialist in failure".
Wenger had originally declared that the title was Chelsea's to lose and that rivals for the league were playing down their chance because they "fear to fail".
Rodgers, whose Liverpool side trail leaders Chelsea by four points and Arsenal by three after both sides drew in mid-week, has entered the debate regarding Mourinho and Wenger's verbal jousting by criticising the conduct of the pair.
"It is getting stupid now isn't it?" Rodgers said: "It is probably more for the media, who will make more of it than it actually is.
"As a modern-day manager, there are so many elements you have to have to your profile at this level; it is more than just the coaching on the field, it is managing the welfare of the players, media, and the psychology of it all has always been the case.
"I can only speak for myself and it [mind games] has nothing to do with me."
After having seemingly fallen off the pace in the race for the title, Liverpool have closed the gap to the top three of Chelsea, Arsenal and Manchester City with an unbeaten run in 2014, including five wins in seven league games.
Before winning late on at Fulham on Wednesday, Liverpool had defeated Arsenal 5-1 at Anfield and Rodgers hopes that defeat continues to haunt Wenger's side.
"You could see Arsenal were nervous in the game the other night, you could sense that," Rodgers explained. "It's never easy when you get exposed like that but mainly it was down to our brilliance on the day really. We were outstanding.
"Usually a team will get time to get over a defeat like that so to come across us so quickly afterwards, it will be interesting to see the effects. When you put in a performance like we did against Arsenal, who were top of the league, it is one that can stick in the mind a wee bit more. But they will be motivated for this game.
"Players at this level are really competitive and will want to show the defeat is past them. They have some outstanding players, they have real quality right throughout the team and they have the quality to come back. But if we can get anywhere near the level we were at in the league game we will have a great chance of winning."