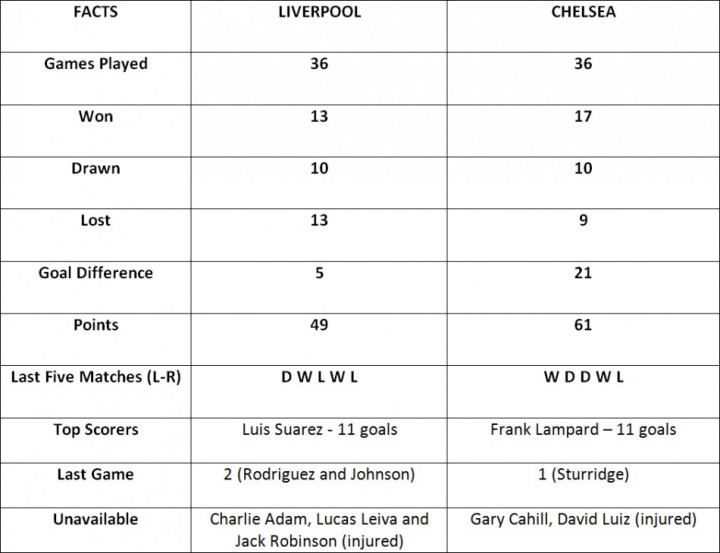 Roberto Di Matteo will lead the Blues out against Liverpool for the second time in three days, as the FA Cup finalists lock horns once again on Tuesday evening, in the two sides' penultimate league fixture of the season.
There is much at stake for Chelsea, including an outside shot at third place in the league, a possibility that has convinced Di Matteo, according to an earlier IBTimes UK report, to send out as strong a side as possible against Kenny Dalglish's men, despite the Champions League final with Bayern Munich looming in the distance. However, given the recent results of Arsenal, Tottenham and Newcastle, should the Blues win their remaining two games (and all the aforementioned three lose their final games), the Stamford Bridge club would find themselves in a hugely impressive and perhaps unflattering third place.
Liverpool, on the other hand, have little but pride to play for, although there is a lot of that they must recover, after having suffered their worst run of form for more than four decades and worst general performance in the league in recent memory. The Reds are an enormous 37 points off Manchester City at the top of table and an equally miserable 17 points behind Newcastle, who occupy the final Champions League spot.
When these two last met, at Wembley, for the FA Cup, the Blues won the game rather comfortably, with goals from Ramires and Didier Drogba proving too much for Andy Carroll's lone late strike. Dalglish and the Reds were left fuming after a potential equaliser (and Carroll's second) was ruled out, correctly, as a no goal and despite a late second half charge, Liverpool could not stop Chelsea from lifting their fourth FA Cup in six years.
The Build-up:
Liverpool's league form has been in stark contrast to their cup form this season. The Reds were largely untroubled, except for the final, in their run to the Carling Cup trophy earlier in the year, to the extent of eliminating both Chelsea and Manchester City and although the Blues extracted revenge at Wembley, the run to the FA Cup final saw Dalglish's side negotiate Stoke, local rivals Everton and Manchester United. In the league, however, it has been a completely different story. Liverpool have won only three of their last 10 league games and have not beaten a top four side since they triumphed 3-1 over Newcastle, at home, on 30 December.
Chelsea, meanwhile, have had only a marginally better league season. The Blues' performances in Europe, however, have been outstanding, particularly after Di Matteo assumed charge of first-team affairs. The resolute defending against Barcelona, at the Camp Nou, which won them the tie, was reminiscent of the Chelsea of Mourinho's era and that unshakeable resolve and self-confidence that characterised their play then was in evidence both on that occasion and in the FA Cup final. They have, however, not been quite so impressive in the league, winning only four of nine game since Andre Villas-Boas' last game in charge - 3 March, when they lost 0-1 to West Brom.
The defeat in the FA Cup will certainly be at the back of Liverpool's mind, as will the controversial Carroll "goal". Chelsea, on the other hand, could be distracted by thoughts of the Champions League final and the fact they lost their last league game, at home against Newcastle. In addition, given that neither club's league form has been particularly good, this is a hard game to call.
Team News:
Liverpool will miss midfielders Charlie Adam and Lucas Leiva, both of whom are long-term knee injury victims. Andy Carroll, whose goal gave Liverpool some hope in the FA Cup final, and went marginally towards repaying his £35mn fee, will probably start this game. Jay Spearing, however, will probably not, given his poor Wembley performance. Dalglish may look to rest some players for this game given that the Reds have nothing left to play for. However, the Liverpool squad is already threadbare and the poor form of some players means that may be a luxury the manager cannot afford.
Chelsea have no fresh injury concerns. Defenders Gary Cahill and David Luiz will continue to be unavailable although there is talk they could return to training this week and maybe feature in the final game against Blackburn as preparation for the Champions League final. The major decision Di Matteo will have to make is whether or not to make tweaks to the side that won the FA Cup. One such tweak could be starting Spanish midfielder Juan Mata on the bench and maybe starting Daniel Sturridge, both in an attempt to give the young Englishman playing time and rest Mata. Meanwhile, Mata's compatriot Fernando Torres could make a start, in order to rest Ivorian star Didier Drogba.
Facts:
Chelsea have not scored in eight league games against Liverpool.
The Reds have won only five league games at home - their lowest since 1948.
The Blues have conceded nine of their last 10 league goals in the final 15 minutes of matches.
The FA Cup final was the first time in 14 games that Dalglish was beaten by Chelsea.
Chelsea have won only one of their last eight away league games.
Man to Watch:
Liverpool - Andy Carroll. Carroll came off the bench to score his side's only goal of the FA Cup game and was largely responsible for whatever revival the Reds experienced in the second half of that game. Carroll's form for Liverpool, since signing from Newcastle, has been disastrous. However, important goals in recent games against Blackburn, Everton and now a decent performance against Chelsea may be the catalyst he needs to get his head down, improve and justify his large fee and position within a Liverpool squad that is almost certainly headed for an overhaul in the summer.
Chelsea - Fernando Torres. Like Carroll, the Spanish striker has seen an alarming dip in form post his transfer (in this case, from Liverpool). The once-feared World Cup winner, however, has seen marked improvement in recent games, more so than Carroll, exemplified by his goal against Barcelona and hat-trick (first for Chelsea) against QPR. With all the talk about how Drogba is the club's big-game star, Torres has much to prove, both to the club and the Spanish national team coach Vicente del Bosque, with the summer's European Championships rapidly approaching.
Where to Watch Live:
The match will be available live on vslive.tv in the UK and FOXSoccer.tv in the US.
Prediction:
There is really not much to be gained by studying the form book for this game. Both clubs have had inconsistent league seasons and less than perfect squads. However, what was abundantly clear at Wembley was that Chelsea are by far the better organised and drilled side. Di Matteo has a clear game plan for each of his players and they respond to it, unlike Dalglish and Liverpool. That could give the Blues an edge. However, Liverpool will be itching for revenge and loathe to lose a second game, at Anfield, in succession. Will that be enough motivation to beat Chelsea? Do they have the players and the tactical wherewithal to do that? Probably not.
Liverpool 1 - Chelsea 1.