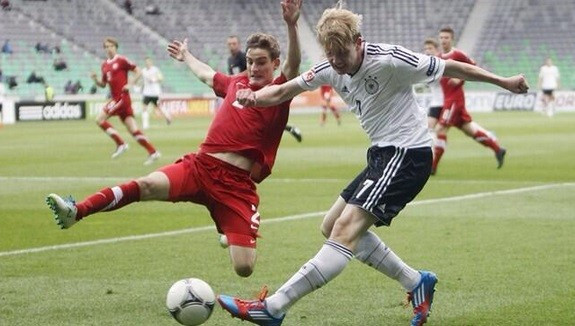 Liverpool are keeping a close eye on Byer Leverkusen youngster Julian Brandt with Brendan Rodgers personally going to Germany to scout the player, according to the Mirror.
The midfielder has also been linked with moves to Manchester United and Chelsea who are also keeping track of the player. The attacking midfielder has the talent to be among the best in his position, something which has caught the eye of clubs across Europe. Rodgers is a keen admirer of the player and took time off in ther week to scout the player personally ahead of a summer bid.
The Reds are currently top of the league and travel to West Ham on Sunday where a win will take them closer to winning their first league title in over 24 years. Liverpool have to face Manchester City and Chelsea this month, the results of which are likely to decide their fate in the title race. However, with only six games to go, Liverpool have all but confirmed their place in the top four, something which they have not been able to do in the last five years.
Meanwhile, Rodgers has revealed that his side are able to catch the subtle changes he makes to the formation and play something which was not possible when he first made his way into the club. The Reds have responded brilliantly to the former Swansea manager, something which is evident in their style of play and how they effortlessly move between formations.
"The structure of the team is good, we're flexible tactically so when I change they understand their job exactly. The style remains the same whatever system we play - it's to play with dominance and they have certainly shown that. I've talked before about the nature of our game. The nature of our game is to deal with the ball. It's easy to coach a team to sit back, all in one half of the field, and to not play with the ball," Rodgers told LiverpoolFC.com.
"The hard thing and the thing that we found difficult at the beginning of my time here was to keep encouraging players, when they make a mistake, to let it go; just to keep playing and get on the ball. We play as a team. You see the confidence in the players - they have belief in how they're working, which is important, and belief that they can win big games," he added.