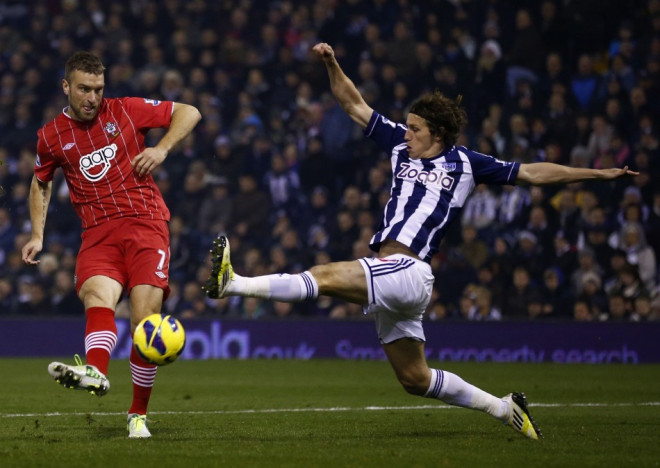 Liverpool are reportedly closing in on making their first buy of the summer transfer window by signing Southampton striker Rickie Lambert, according to the Guardian.
The 32-year-old spent five years with the Reds in their academy, before being released by the Merseyside club at the age of 15. During the 2013/14 season, the England international has been in fine form for the Saints, scoring 13 goals and managing 10 assists from 37 league appearances.
The report claims Liverpool have placed a £4m plus add-ons for Lambert as Brendan Rodgers looks to seal the deal before the striker flies to Miami with the England squad on Saturday.
Lambert supported Liverpool as a schoolboy and is excited by the Reds' interest in his services. The England striker is aware that his first team chances would be limited as Rodgers has Daniel Sturridge and Luis Suarez at his disposal.
However, despite knowing the situation, the Southampton star is keen on joining his boyhood club. Lambert has received praise from the former Swansea manager earlier this season. The Northern Irishman believes the Saints striker never got the recognition of a good footballer.
"He's probably never got the recognition for what a really good footballer he is. He is probably seen as a traditional big number nine, a typical British striker, but he's one of the most accomplished footballers I've seen. Look at his touch and the different types of goals he scores; he is a terrific player," Rodgers said.
According to the BBC, Lambert has been attracting interest from other clubs. However, the striker is considering only Liverpool's offer as he is eager to return to Anfield in the summer transfer window.
The Merseyside club are hoping to complete Lambert's medical before he flies to Miami on Saturday. The addition of the English striker would give Rodgers more options during the team selection and will improve their squad depth for next season's Champions League.
Meanwhile, both BBC and the Guardian report that Liverpool are still in talks with Southampton over the transfer of England midfielder Adam Lallana and Croatian centre-back Dejan Lovren.