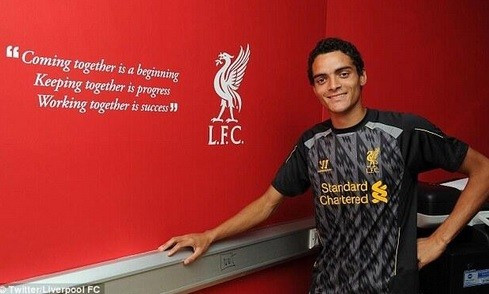 Liverpool Football Club have confirmed that Tiago Ilori has completed a loan switch to Spanish outfit Granada. IBTimes UK had exclusively reported that the clubs had reached a deal in principle for the Portuguese international, the same of which has now been announced by the club.
The 20-year-old joined Liverpool from Portuguese outfit Sporting Cp on deadline Day last September but has not made any league starts thus far for the Reds.
The loan deal to the La Liga side, who are currently 10th in the table, will give him some much needed experience in a bigger league and make him a better player when he returns to Anfield next season.
This is a good move by Liverpool to allow Ilori who already have four central defenders at their disposal by the likes of Daniel Agger, Martin Skrtel, Kolo Toure and Mamadou Sakho who are all preferred ahead of the Portuguese national.
However, in an interview last month, Rodgers revealed that Ilori was signed looking into the future and will give Liverpool some much needed cover when the likes of Toure and other aging members of the squad are past their due date.
"Signing Ilori was about looking after the future of the club. Centre-halves are very hard to get. I know as well as anyone, especially working with young players, that they need time in that area. He was one that became available. He wasn't overly-priced," Rodgers said.
"I see the price that is quoted (£7million) and it is nowhere near the mark to be honest. He has come in, he will have six months to adapt and then he will go out and get experience.
"Hopefully in the future, maybe long after I am gone, he can prove to be a talent. That is the responsibility of myself and the club going forward to nurture it. Of course I have to focus very much on the here and now, but I always have to respect the club and have one eye on the future, " he concluded.