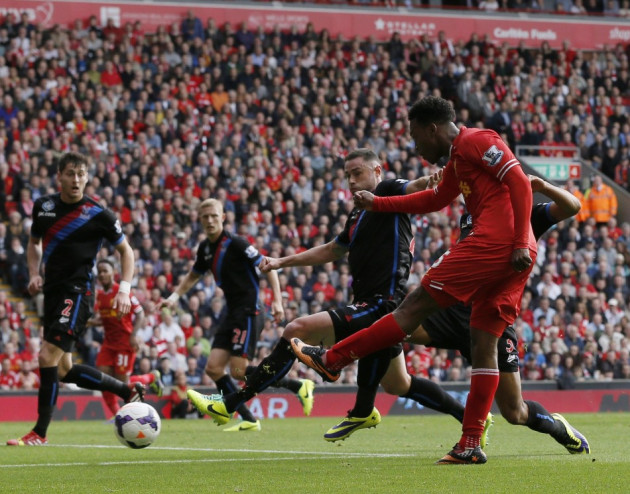 Liverpool manager Brendan Rodgers believes the differing qualities of Daniel Sturridge and Luis Suarez are a fundamental reason behind the instant success the duo have enjoyed.
The two strikers showed early indications of what they can conjure up as a pair last season but upon Suarez's return from a ten match suspension the SAS partnership has excelled, finding the back of the net on five occasions in three games between them.
The compelling understanding Suarez and Sturridge have shown has won them admirers from all quarters but Rodgers has stressed that the individual qualities that make the two strikers so different is what ensures the club have the most potent strike force in the league.
"Their qualities are different. If you look at Luis, he's a great box player," Rodgers told Liverpool's official website.
"He's got wonderful feet in and around the box, he can make things happen out of nothing, he always has defenders on the back foot because of his trickery, and he can finish left foot or right foot.
"So he will always ask defenders questions, especially in and around the box where they have maybe got to dive in a bit more."
In Suarez's absence, former Manchester City and Chelsea striker Sturridge proved to be capable of handling the burden of being the club's chief goal scorer, finding the net six times before the Uruguayan returned.
While recognising the England international as a completely different type of forward, Rodgers is hopeful the ever-improving Sturridge will continue to take the enormous strides that have come to epitomise his spell at Anfield.
"Daniel is a different type altogether; he's got all-round great qualities," Rodgers continued.
"He's got a great touch, is very strong on his left side and his right side, he's got super pace - once he's away, he's away you're not catching him.
"He's clever in his movement and his runs, he's a good footballer, he drops into spaces, picks up the ball, sets the game, spins. He's also got an eye for goal.
"The area that he's always looking to improve on is his heading, as he showed last week away at Sunderland. He's a boy who I still think there's a lot of improvement to make.
"When he does I think he can prove to be one of the top strikers in European football."