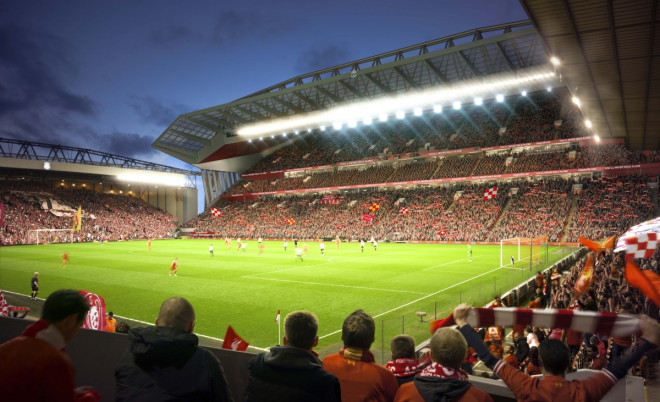 Liverpool have outlined the specific plans surrounding the £150m expansion of Anfield by releasing images of the prospective development amid a consultation process regarding the increase in capacity.
The designs show significant changes to both the Main Stand and the Anfield Road Stand that would take the capacity of Anfield close to 60,000 while the club have also detailed the plans for the surrounding areas of the stadium.
Work is expected to be completed in time for the 2016/17 season and will cost a combined £260m and will see Liverpool compete financially with their rivals including Arsenal and Manchester United – both of whom are the highest matchday earners in the Premier League.
"In 2012 we made a very firm commitment to work with Liverpool City Council and the housing group on the regeneration of the Anfield area and part of that was to take forward our preference to stay at Anfield and expand the existing stadium," Liverpool managing director Ian Ayre said.
"The expansion of Anfield is important for a number of reasons. Our ambition is to continue to compete at the highest level in domestic and European football competitions so to do this we need a stadium which is comparable in size to our main competitors which offers high quality facilities for both our fans and our visitors."
The confirmation of the plans follow Liverpool securing an additional revenue stream after clinching qualification for next season's Champions League after beating Norwich City. Brendan Rodgers' side require seven points from their remaining three games to clinch a first league title for 23 years.
In the wake of moving to the Emirates Stadium in 2006, Arsenal suffered years of austerity and were hindered in the transfer market while being forced to sell big name players including Cesc Fabregas and Robin van Persie in order to finance the move.
While Liverpool are hoping to take advantage of the long-term benefits of improved matchday revenue, fears are rife they may be forced to sell players in order to balance the books.
But Ayre added: "We won't be selling a player to pay for it. There's never been a discussion about selling a player to pay for the stadium.
"If anything, we're doing it to support investment in the team. Obviously, there'll be a period where we have to pay for this thing but again it's been designed to make this happen as quickly as possible and the core reason for doing it is to support the core finances overall.
"To compete we knew we have to progress on two fronts - that was Champions' League and the stadium. We are now back in the Champions' League, and we believe this is a great solution for the stadium."