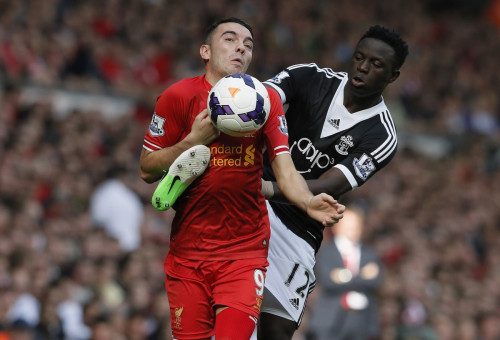 Jan Molby has argued that Liverpool must keep hold of Iago Aspas in the January transfer window if the striker is to find his form for the Merseyside club.
Aspas made the move from La Liga strugglers Celta to the Reds in the summer for a fee of nearly £8m, but the forward has been utilised by Brendan Rodgers just 10 times so far this season.
The 26 year old has since been linked with a possible loan move away from Liverpool as he looks for more game time but Aspas insisted in December that he is happy to continue fighting for game time under Rodgers for the rest of the season.
And former Red Molby believes that keeping Aspas will be very important to his development in England after Rodgers showed faith in him at the start of the season.
"We have to be fair to foreign players," he told the Echo. "And we have to allow them time to settle.
"But in the case of Iago Aspas, what we've seen of him so far does not suggest he will blossom any time soon. It has been suggested that Aspas should go out on loan but I'm not sure what that proves.
"Being sent out of loan is usually the second to last move before a player is sold so I'm not sure there is any benefit in doing that. And Brendan Rodgers is not in a position at the moment where he can afford to let players leave the club.
"Liverpool are struggling with injuries so I cannot see Aspas being let go. It is also important to remember that Rodgers and his coaching staff have a proven record of improving players."
Molby also argued that Rodgers should take a look at the situation surrounding Aspas only after he has played a full season with Liverpool, explaining: "Only in the summer should the club assess whether his future is with them – or somewhere else."