Liverpool have announced a loss of £40.5m for the year ending 31 May, 2012. The Anfield club have indicated a £21.8m increase in net debt in the period, to settle at £87.2m from 1 August, 2011 to May 2012. The report on the club's Web site also indicated their financial year had been re-aligned to coincide with the footballing season.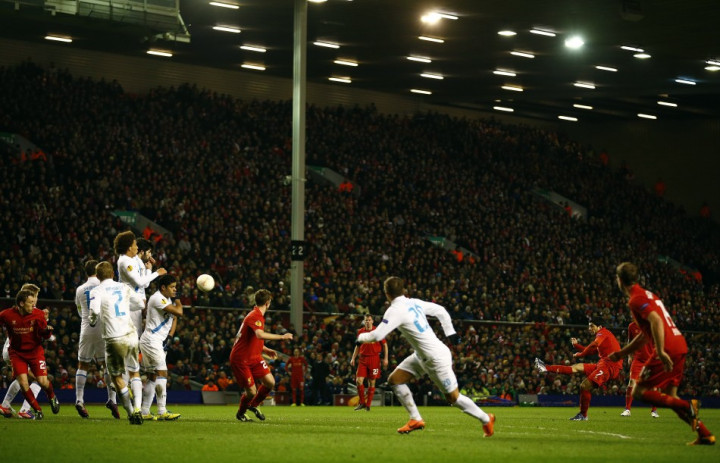 Managing director Ian Ayre has been quoted as admitting financial problems incurred by poor transfer decisions, stating that a significant amount of money had been lost to "amortisation of players... that perhaps came in on a higher cost".
The Reds spent close to £60m in the summer of 2011, bringing in as many as seven new players, including £20m each on Stewart Downing (according to the Guardian) and Jordan Henderson (according to the Telegraph). Unfortunately, ex-manager Kenny Dalglish had a poor season, finishing eighth in the Premier League and only qualifying for Europe by virtue of winning a domestic trophy (Carling Cup).
And the lack of participation in Europe's elite tournament, which can provide up to £30m a season, has certainly made its absence felt in the season's accounts, something Ayre acknowledged. However, he was also quick to point out that this did not mean there would be no player investments moving forward.
"In some years, as in this year, we didn't have European football to play but the business performance supported the football, as did our domestic cup performance. We had a fantastic performance in the Carling Cup and in the FA Cup," Ayre stressed, "We continue going forward to invest in the squad. As long as you invest in it and manage it in the right way, then hopefully it bears fruit as we go forward and gives us a better platform to exist on in a different environment and in a world where we are expected to break even."
Perhaps the worrying part for Liverpool fans is Ayre's reference to Financial Fair Play (FFP). While FFP rules will come as welcome addition to the administrative aspects of governing the game, his comments about "financial fair play will take part... [in] the future" sounds suspiciously like Arsene Wenger and their north London rivals.
Financially, it means the owners - Fenway Sports Group (FSG) - have had to pump money in. The report posted by the club states FSG injected £46.8m "via a non-interest bearing intercompany loan".
The good news, though, is the club has seen an increase in commercial revenue and the Deloitte Money League has listed them as the ninth biggest club in the world, in terms of revenue. And Ayre believes this achievement points the way forward.
"These financial results show that we are continuing to improve revenues while managing our cost base and day-to-day operations more effectively [and] off the pitch, we forged new partnerships with Warrior, Garuda and Chevrolet - the revenue from these contracts will show in the 2013-14 financial accounts," he explained.
"We continue to invest in our digital platforms and more recently established 10 new international Twitter feeds in local languages to further engage our global fan base. LFC is now the most active football club on Twitter throughout the world," Ayre concluded.