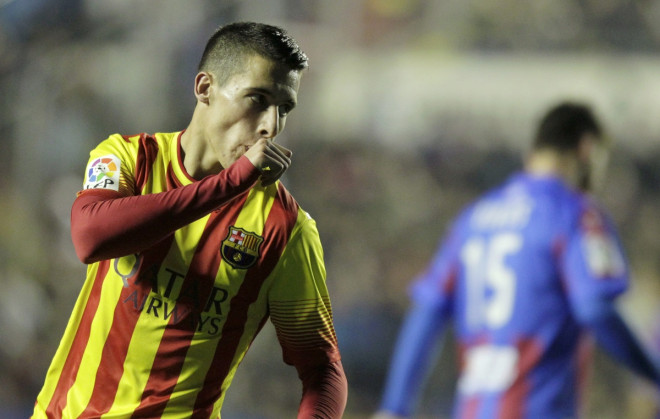 Liverpool are preparing a move for Barcelona winger Christian Tello, according to the Mirror.
The Catalans have given Liverpool the green light to move for Tello and the Reds are likely to sign him for a fee in the range of £8m.
Brendan Rodgers is a huge fan of the winger and has been tracking him for two years now. The 22-year-old has failed to make the starting line-up for Barcelona on a regular basis and had a major fallout with manager Tata Martino. This apparently triggered his decision to move out.
The Reds want to strengthen their squad for the next season as they prepare for their first Champions League outing in over five years.
Rodgers' side have been in brilliant form over the course of the season and have overcome many odds to bring themselves back as challengers for the title, having finished the league in seventh position last season.
However, their title challenge has fizzled out following a disastrous 3-3 draw with Crystal palace, where the Reds failed to hold on to a three-goal lead with 15 minutes left in the game.
Liverpool are still top of the table and are only one point ahead of Manchester City, who play Aston Villa at the Etihad on Wednesday.
Meanwhile, former Liverpool defender Jamie Carragher has slammed the Reds after giving away the lead against Palace. The Anfield veteran, who retired last season, insisted that Liverpool's failure to defend has come back to haunt them.
"You look at Suarez and you think you feel sorry for him, but you can't feel sorry for Liverpool in that situation," Carragher said.
"That is not acceptable, for all the plaudits Liverpool have had in the last few months - and deservedly so as they have been the most outstanding team in the Premier League to watch and excited us all.
"But that has been their Achilles' heel all season. Even when they've been winning games it's been 4-3 or 6-3 or 3-2. We always felt the defence would come back and haunt them with the goals they've conceded," he added.