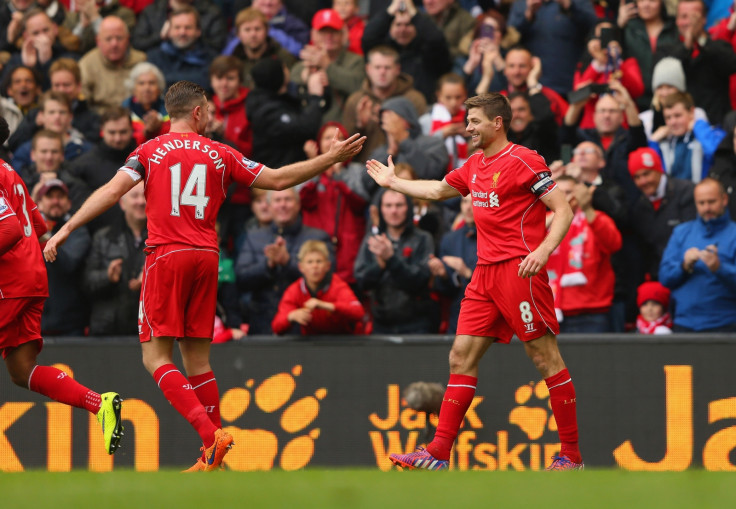 Steven Gerrard has put the boot in Chelsea fans, stating "it was nice of them to make some noise for once today", in spite of them giving the Liverpool legend a standing ovation on his visit to Stamford Bridge on what should arguably be his last visit to the stadium.
The whole stadium erupted as both sets of fans cheered the leader, who scored Liverpool's equaliser in the first half. However, the same was not enough to guarantee them a top-four finish, as Manchester United's win over Crystal palace mean that they need to overturn a 14 goal difference and hope that the Red Devils lose their next two games, while Liverpool win their remaining games.
Gerrard, who is moving to the MLS after his term ends this season, heaped praise on the Liverpool supporters instead for their undeterred support and insisted that the Chelsea fans' praise holds no value for him.
"I'm not going to get drawn into wishing the Chelsea fans well, it was nice of them to turn up for once today," Gerrard told Sky Sports.
"I was more happy with the ovation from the Liverpool fans. I think the Chelsea fans have shown respect for a couple of seconds, but they've slaughtered me all game.
"If you get a standing ovation at a stadium it is always nice, but what is always important is the support from the Liverpool fans, and they've been with me since day one," he continued.
On Champions League qualification, Gerrard added that they need to build again next term and bring in a few players who can improve the team. Jordan Henderson is expected to take over captaincy and mark the rise of a new generation at Anfield.
"I think now this team has got to build for next year. We didn't win the game, but we've certainly showed with additions and a bit of improvement that we can compete next year," Gerrard said.
"I think it's important the lads get some rest after the last couple games, and that the owners dig deep and try to help Brendan and the lads out, try and make some additions and try to improve.
"There's a great core of players here, they have terrific potential and the future looks alright, but it is important we try to compete with the giants in the league, they're all going to spend big and this league is getting more and more difficult every year," he concluded.