Liverpool: Jamie Carragher predicts Steven Gerrard will be benched in Manchester United visit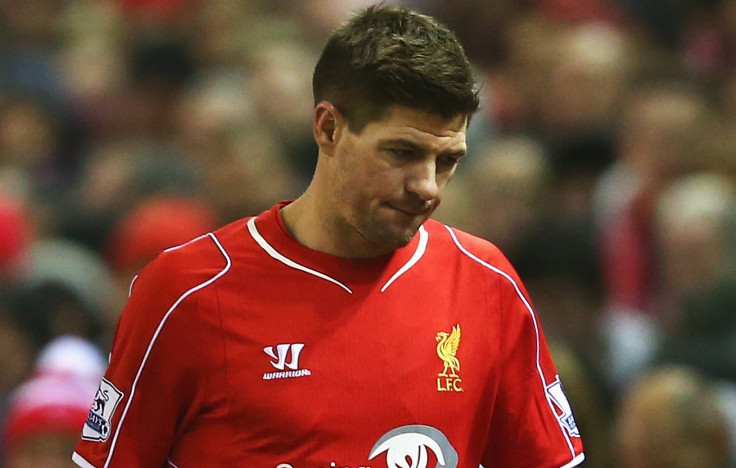 Liverpool legend Jamie Carragher believes Steven Gerrard will not regain a starting spot in manager Brendan Rodgers's starting line-up ahead of the crucial game against Manchester United on 22 March.
The captain returned to action as a sub during the 1-0 victory over Swansea City on 16 March after more than a month on the sidelines.
Since his previous game against Tottenham Hotspur on 10 February, when he scored a goal to help his side secure a 3-2 victory, the Reds won all their Premier League games – against Southampton, Manchester City and Burnley – and in the FA Cup they beat Crystal Palace and got a 0-0 draw against Blackburn.
Given the impressive form of Jordan Henderson and Joe Allen in the middle of the park during his absence, Carragher believes Gerrard is going to struggle to regain his place in Rodgers's starting line-up for the game against Louis van Gaal's United side.
"Who do you leave out? Henderson, you don't leave out. Allen was maybe one of the best players on the pitch against Man City. I don't think he'll play Steven Gerrard. The team is playing well," the legend said to Sky Sports.
"They've been on a great run since Steven has been out of the team. Unfortunately, he'll know himself, when you go out the team and the team continue on a great run, it's hard to get back in. It's unfortunate for him but we've all been there towards the end of our career."
After the Swansea game, Rodgers claimed Gerrard's teammate deserve respect, with Liverpool winning the six games where the captain has been out this season, with the Reds scoring 14 goals and conceding just two.
Questioned how he will deal with Gerrard's return to the starting line-up, Rodgers said: "You have to pay respect to the team. They've been playing very, very well and getting results. Collectively over the last three months we've been in great form.
"But, of course, Steven has been out for a considerable period of time. He's fit [now] and you saw him in the game today how important he is when he came on."
© Copyright IBTimes 2023. All rights reserved.