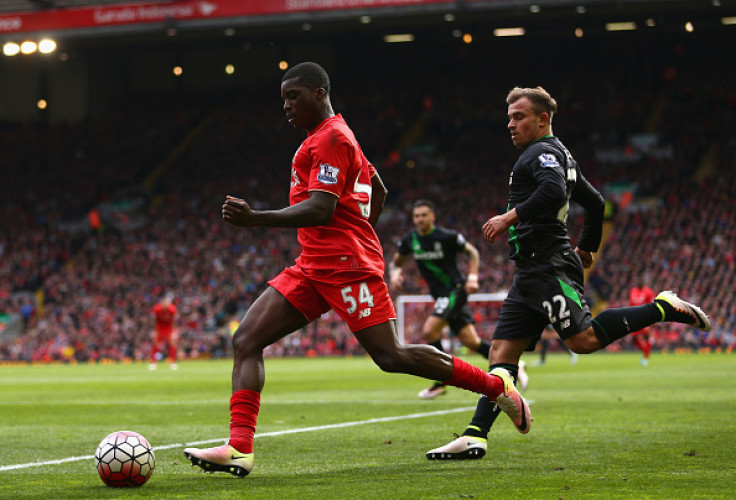 Sheyi Ojo has impressed in only his second Premier League appearance and former Reds striker John Aldridge believes the winger can save Liverpool 'millions' in the summer by stepping up as a regular member of the first-team. The England U19 international provided his first English top-flight assist for Daniel Sturridge's goal during their 4-1 win over Stoke City on Sunday (10 April).
The 18-year-old winger started the season on loan at Wolverhampton Wanderers, but after putting in some impressive performances, he was called back by the German manager, who wants the club's talented youngsters to continue their football development at the club's Melwood training base rather than with another club. Ojo has since been a regular for the Reds U21 side, while also making brief appearances for the first-team in the FA Cup, the League Cup and the Premier League. He has made seven appearances this season, scoring two goals and providing three assists.
Klopp has indicated that signing wingers will be high on his priority list in the summer, but with the performances of Ojo, he could look into the club reserves to solve the lack of width in the team next season. Aldridge believes the winger can become a mainstay for the club if he continues the hard work to develop on the attack and defence fronts.
"Sheyi Ojo struggled a little at the start but he kept his head up and produced a brilliant moment of skill to turn it back into our favour," Aldridge writes in his column for the Liverpool Echo.
"It's the first time I've seen him in the flesh for a couple of years. He was only 15 years old back then, and I was commentating on an Under-18s game. I likened him to John Barnes because of the manner he was going down the left, and he showed a little bit of that on Sunday."
"You could see his ability then and you can see it now. I hope he can keep gaining in confidence because he has the talent, without a shadow of a doubt. You could see he was nervous early on but he worked hard, and as long as he keeps working hard in training, it's exciting," the Reds legend added.
"He could save the club millions if he can grasp what's needed and work hard, both defensively and going forward. The crowd were behind him as well, so that was good to see."