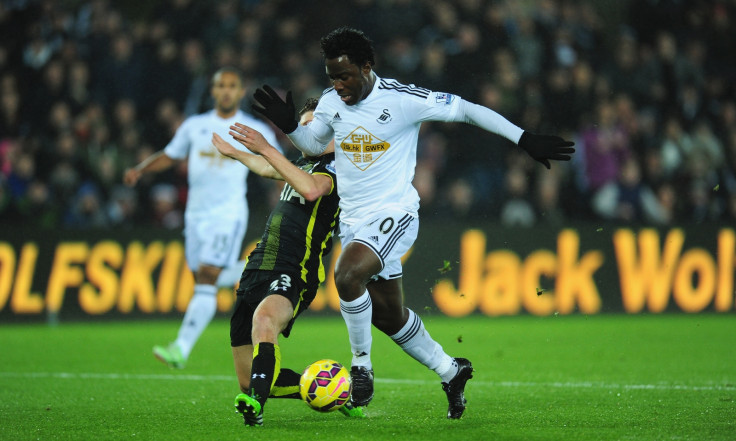 Liverpool should make Swansea City striker Wilfried Bony their number one priority signing in the January transfer window, according to former defender Jamie Carragher.
Amid the Reds' worst start to a Premier League campaign, leading strikers Rickie Lambert, Mario Balotelli and Fabio Borini have mustered just one league goal between them this season, a plight that has been accentuated by the loss of the injured Daniel Sturridge.
Defeat to Manchester United, a game that saw Liverpool squander a number of guilt-edged chances, highlighted the club's problems and Carragher believes they should look to make Bony their marque addition in the new year.
"I hope Liverpool sign Bony," he said. "Liverpool signed Balotelli for £16m. How much would Bony cost? £20m to 25m.
"He's certainly a player that Liverpool should be looking at. I wish Liverpool got him this summer and I hope they're looking at him in the future."
Bony netted his eighth Premier League goal of the season in the 2-1 defeat to Tottenham Hotspur on Sunday 14 December but his future has been cemented in recent weeks after the Ivory Coast international signed a new one-year deal to keep him at Swansea until 2018.
The 25 year old has been linked with moves to Arsenal and Liverpool since enjoying a fruitful first campaign in the Premier League, scoring 16 goals in 27 starts for the Swans but the new deal has worked to warn off any further interest in the forward.
"I was really happy to sign a longer contract," said Bony. "I have a great relationship with the club. I like the feeling within the club and also the direction I believe the club is heading.
"Signing an extended contract means I can just focus on Swansea and continue giving everything I have for this club.
"I enjoy it here – I have a good relationship with my teammates, the coaches and our fans."