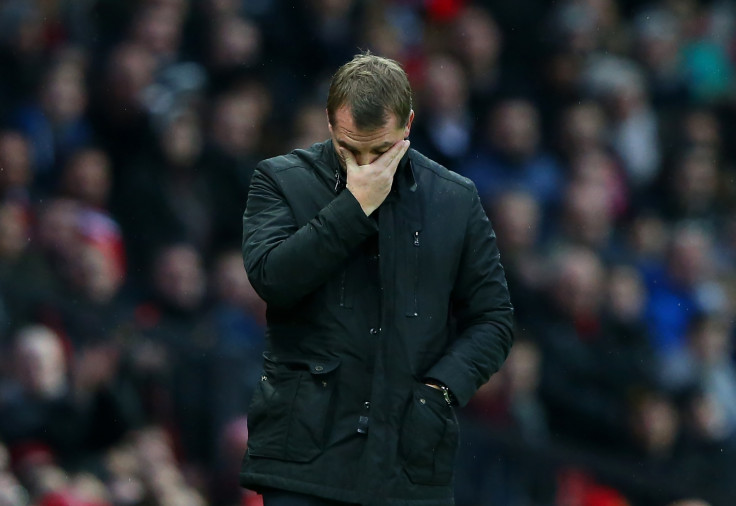 Brendan Rodgers has admitted that Liverpool are struggling, revealing he has no solution for their troubles at present after the side fell to a disappointing 3-0 loss to Manchester United.
The manager appeared to have no answer for a United side which were playing far from their best and while Juan Mata's goal just before the break was most certainly offside it never appeared like Liverpool could compete with their rivals, who romped to an easy win at Old Trafford.
But Rodgers insisted that there are positives to take from the game as he considers how to take the Reds back to their best.
"Today, we created opportunities which we haven't been doing," he told Sky Sports. "I'll keep searching for the solutions. It's been difficult this year but that's the way it works. It's clear we haven't scored or created enough goals.
"We had huge changes in the summer and that has taken time for us to find our way.
"The most important thing for me today was we looked like scoring. Over the course of the season we haven't been creative enough.
"Raheem Sterling was outstanding, his movement was great, he was just unfortunate not to get a goal.
"I didn't think it was a 3-0 game. I thought we were the better team in the first half but we gave away disappointing goals today. I think it tells you everything that their goalkeeper was man of the match. Our creativity was good today, probably the best all season."
Liverpool had the majority of shots throughout the game with 19 to United's 11, but they couldn't make it count, partly due to David De Gea's brilliance as he made save after save at the feet of Sterling.
And Rodgers was particularly disappointed at Liverpool's inability to turn the chances into goals, insisting that without De Gea it would have been different.
"I thought we had done enough to win the game, it epitomised our season really," he explained. "We created so many chances today and David De Gea was man of the match. He's had four or five games like that this season. David's a top class goalkeeper and his ability to make saves is outstanding but his distribution is also excellent, he knows when to go short and when to go long.
"We also made defensive mistakes and that cost us today. We've just got to keep working, we know what the solutions are and hopefully the confidence will return."