Liverpool and Manchester United issue joint statement pleading for calm ahead of Anfield clash
KEY POINTS
Both sides urge fans to help 'eradicate all forms of offensive and discriminatory behaviour'.
Jose Mourinho's side travel to Anfield for Monday evening kick off.
Liverpool and Manchester United have issued a joint statement ahead of their clash at Anfield on Monday (17 October), urging supporters to behave themselves or face being ejected and prosecuted for "offensive or discriminatory behaviour".
Both clubs were fined €40,000 (£30,565) by Uefa following disturbances that included "illicit chanting" from both sets of supporters in their two-legged Europa League last-16 tie last season.
Liverpool were fined a further €17,000 after fans set off fireworks and flares and threw objects from the stands in the second-leg clash at Old Trafford. The match ended in a 1-1 draw, with Liverpool progressing to the next round thanks to a 3-1 aggregate scoreline.
United were also made to pay an additional €18,000 over crowd disturbances, thrown objects and blocked stairways.
Five people were arrested as fans clashed inside the stadium towards the end of the match, while small sections of both sets of supporters sang songs mocking tragedies involving both clubs. References to the Munich air crash and the deaths at Hillsborough were both heard.
Prior to the game, a picture emerged on social media of a banner reading "murderers" along with the date of Hillsborough draped over a bridge on the M602 motorway near Manchester, which joins the two cities.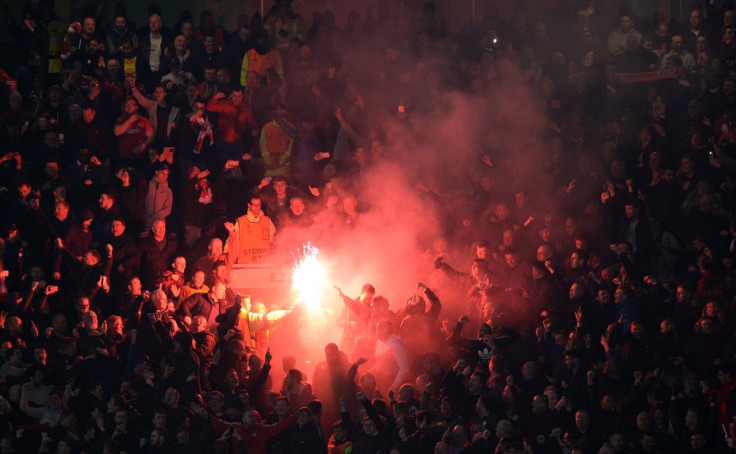 The joint statement read: "Both clubs, their supporters and football fans around the world are looking forward to this historic and passionate match between two of the sport's biggest and oldest rivals.
"There is great rivalry between our fans and we ask all supporters to be respectful and help eradicate all forms of offensive and discriminatory behaviour from the game.
"If any supporters are found to be engaged in any form of offensive or discriminatory behaviour by stewards or via CCTV then they will be immediately removed from the stadium, risk arrest, prosecution and be reported in accordance with the club's ground regulations.
"This is an unrivalled fixture in the Premier League calendar and we thank all fans for their continued support in this important area of the game."
© Copyright IBTimes 2023. All rights reserved.