Liverpool left-back Jose Enrique has criticised manager Brendan Rodgers over the latter's use of the media to inspire his players. The Spaniard and English internationals Stewart Downing and Jordan Henderson were at the receiving end of criticism from Rodgers earlier this season.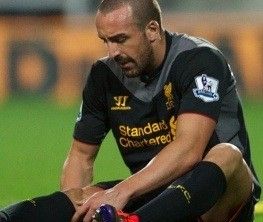 The Daily Mail reported the three were offered to Fulham in the summer, in an attempt to sign Clint Dempsey. Enrique admitted the comments angered him, as he was new to such tactics.
"When the manager said what he did, of course I was angry," Enrique told the Sunday Mirror, "It had never happened to me before and it was not good that he said his comments in the press."
However, Enrique also conceded the comments made him work harder.
"But I thought to myself, 'Okay, now I have something to prove and I must train even harder'," Enrique continued, "I didn't want to be ­finished at Liverpool. I wanted to stay here and play under the manager."
Enrique's form has since been exceptional, helping him cement his place in the Liverpool first team. The same can be said of Downing and Henderson.
"It was not nice to read what he said, but I tried to take it in a good way and do my best. I still don't think the manager did it the right way," the Spaniard explained.
Enrique also accepted that the comments have had the desired effect for all three players.
"He should have spoken to me first. But it is also true that it worked," said the full-back, "He also said some things about Stewart Downing and ­Jordan Henderson, but all three of us are in the team now. I know I have to ­improve to keep my place."
Liverpool are beginning to show some good form, with Downing, Henderson and Enrique now undisputed starters. The Reds' last three home games - against Norwich City, Sunderland and Fulham - finished with an aggregate score of 12-0 and the Anfield club will be hoping they can maintain momentum and challenge for a top four place. However, as Enrique admits, it will not be easy.
"Qualifying for the Champions League is still a possibility, but it will be hard because of the big points difference," he concluded.
Meanwhile, the Premier League aside, Liverpool are also in the UEFA Europa League, a competition they hope to win. They travel to Russia to take on Zenit St Petersburg on Thursday, in the first leg of the first knock-out round of the tournament.