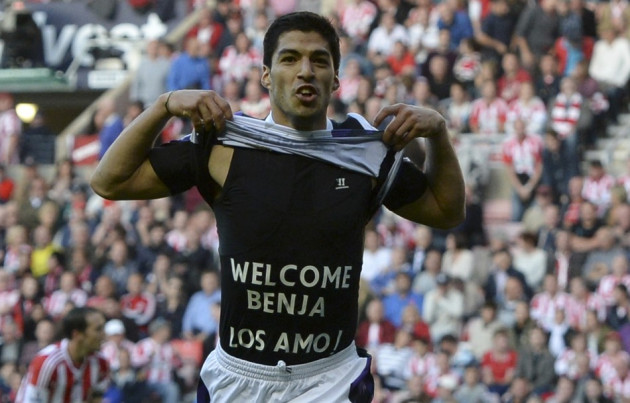 Former Liverpool striker John Aldridge is in no doubt that Luis Suarez will look to leave Anfield sooner rather than later and that Brendan Rodgers must look at how Tottenham coped with losing Gareth Bale.
Suarez appeared destined to leave Liverpool over the summer as he repeatedly made it clear that he wanted to play in the Champions League. Arsenal had two bids rejected for the Uruguayan before he eventually decided to remain on Merseyside as the Reds refused to sell him to a rival club.
The 26 year old made an instant impact on his return to Premier League action as he scored two goals in the 3-1 win over Sunderland. However, despite his impressive display Aldridge believes he will once again be looking for an exit.
"Suarez was very keen to leave Liverpool in the summer and I have no doubt that he will look to get away from Anfield once again sooner rather than later," Aldridge wrote in his column for the Sunday World.
"So why try and get him to commit to the club now, so soon after he did the dirty on them with his bid to join Arsenal?
"Liverpool chief executive Ian Ayre may have told the media he would consider a new contract for Suarez in a bid to dampen down any fresh speculation over the future of the striker.
"But if Liverpool fail to qualify for the Champions League once again, I'm sure Suarez will want to leave and I would advise my old club to get as much money for him as possible and rebuild the team with the new funds."
Aldridge believes that Liverpool must learn from Tottenham who realised that they could demand a staggering fee for their star player Gareth Bale, and subsequently used those funds to sign several players.
"Tottenham have shown what is possible in the transfer market if you get top dollar for a player and use that money wisely to sign a host of top players," added Aldridge. "That is the kind of approach Liverpool will need to take if they are eventually forced to sell Suarez."
Tottenham have excelled this season without Bale as they currently sit third in the league, with just one defeat coming in their opening six games of the season.
Liverpool showed that even without Suarez they could gain positive results as they won their opening three games of the season, but after a draw with Swansea and a loss to Southampton, the controversial striker was a welcome addition to the starting XI for the trip to Sunderland.