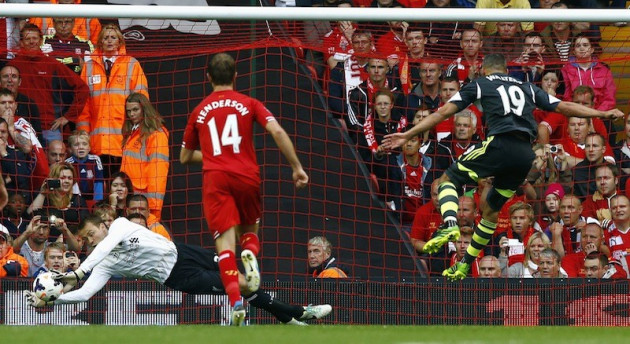 Simon Mignolet is looking ahead to improving further in his next game after making a successful start wth Liverpool and getting the opportunity to train alongside players like Luis Suarez.
Mignolet was a controversial purchase for Brendan Rodgers in the summer transfer window with fan favourite Pepe Reina being sent to Napoli on loan to make room for the Belgium international.
But with a penalty save on his debut the 25-year-old got his Liverpool career off to to a magnificent start and has gone on to keep three clean sheets in six league appearances.
And Mignolet is positive his confidence is continuing to build for the club as he gets settled in on Merseyside and looks ahead to the next match.
"Your debut is always a bit special, and of course you hope to do well, so to save a penalty gave my confidence a real lift," he told Sport Magazine. "I was quite pleased with it, and I'm happy with how things have gone so far - but I don't think too much about what has been, it's more about what is happening at the moment.
"I just want to do well in every single game and with every chance I have to play. It's not about looking backwards or too far in front of you. Football is all about what's happening now."
Mignolet spoke last week about Suarez's influence over his training as the striker made a return to action for Liverpool last week. And once again the Belgian has explained that he has become a better player from having the hitman around at training.
"I think everybody sees the amount of talent Luis has got, what he can do and the goals he can score," he said.
"I have to face him one on one in training nearly every day, so I get to see even more of it than most - but I always think that if you are playing with and against top players like that every single day, it can only improve you as a goalkeeper."
Suarez tried to engineer a move to Arsenal in the summer after initially insisting he wanted to leave England due to the media scrutiny in the country. But Liverpool held onto their man and after returning from suspension the Uruguay international has once again proven why he is one of their most influential players.
A win against Sunderland at the weekend got the Reds back on track after losing to Southampton and the side currently sit second on the Premier League table.