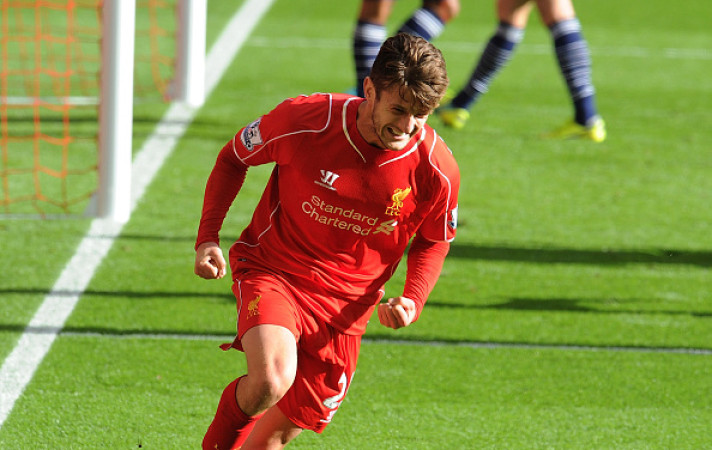 Liverpool midfielder Adam Lallana has backed manager Brendan Rodgers to keep the 3-4-3 formation during the Christmas busy period even though the Reds have failed to win the last two games in the Premier League, against Manchester United and Arsenal.
Rodgers' side have improved following a slow start to the campaign but the good results are yet to come.
They beat Bournemouth 3-1 on Wednesday 17 December to reach the semi-finals of the Capital One Cup and managed to secured a 2-2 draw in Arsenal's visit to Anfield on Sunday 21 December, a week after their 3-0 defeat at Old Trafford.
But even though Martin Skrtel did not equalise until seven minutes into stoppage time, Lallana believes the Merseysiders deserved three points after dominating the game with the 3-4-3 formation.
"We've found a system that the gaffer has changed and got us playing - and I think it's working. We've been creating a lot more chances, in the United game, Bournemouth game and today," Lallana said to Liverpool's official website.
"We're disappointed at conceding the first goal on the stroke of half-time. It probably gave Arsenal a little bit of momentum that could have been avoidable. But there was great character shown by the lads to keep pushing and get the vital goal at the end."
The England international appears to have established his place in the team playing alongside Philippe Coutinho and behind Raheem Sterling, with Lazar Markovic and Jordan Henderson on the flanks.
"I'm enjoying being on the pitch and playing in the system we have been playing," Lallana added.
"I feel it's one of my best positions, but I am happy to play anywhere. I just feel I am becoming a bit more relaxed on the pitch now - and a relaxed Adam Lallana is probably when you'll see the best of me."
But with Liverpool tenth in the table, nine points behind fourth-placed West Ham, Lallana believes the team now have to prove they can start winning games.
He said: "I'm happy with the way things are going on the field at the minute, but we just want to pick up more results.
"We've got a busy Christmas period and I feel if we can put in the performances we've shown over the last week, we're not going to be too far away from picking up a lot of wins."
Liverpool face visit Burnley on 26 December before a home game with Swansea on 29 December.