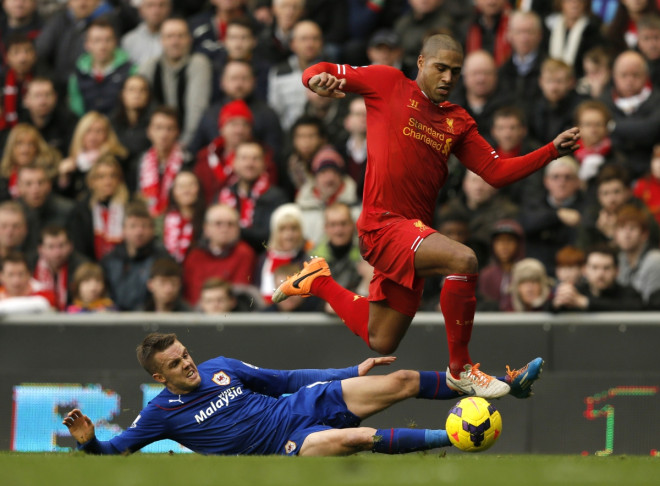 Glen Johnson has heaped praise on Raheem Sterling, saying that the Liverpool starlet is already one of the first names on Brendan Rodgers' teamsheet even though he is only 19 years old.
The Liverpool starlet was the Man of the Match in the 4-0 victory over Tottenham and has enjoyed a sensational run of form lately, scoring six goals since December, including a double in the 5-1 victory over Arsenal.
Asked about Sterling in an interview with Liverpool official website, Johnson said: "At the moment, he's probably one of the first names on the teamsheet.
"He has been class. When he first burst onto the scene, everyone could see how good he could be."
One year ago, the scenario was completely different; after being utilised regularly during the first half of the 2012-13 season, Rodgers withdrew Sterling from senior action to prevent burn-out.
Allowing the No.31 time to develop away from the pressure of the Premier League was a masterstroke according to Johnson, with the decision bearing rich fruit for the Reds at the moment.
Having being in the bench against Cardiff and Sunderland, Sterling proved to Rogers he is ready to keep his place in the line-up after being crucial during the Tottenham game.
"I know he had a couple of months where he wasn't in the team as much as he would have liked, but I think he has bounced back better for that" Johnson said.
The right-back believes that Sterling is also ready to play his part with England in the summer's World Cup.
"It's all kind of coming together at the right time for him. If he keeps playing the way he is, he's definitely got a chance to be involved in the summer.
"I made my debut around a similar age as Raheem, but obviously I had a few years where I was in and out - so I didn't get as many caps as maybe I should have by now. But hopefully Raheem won't have that gap and I'm sure he'll go on and get more."