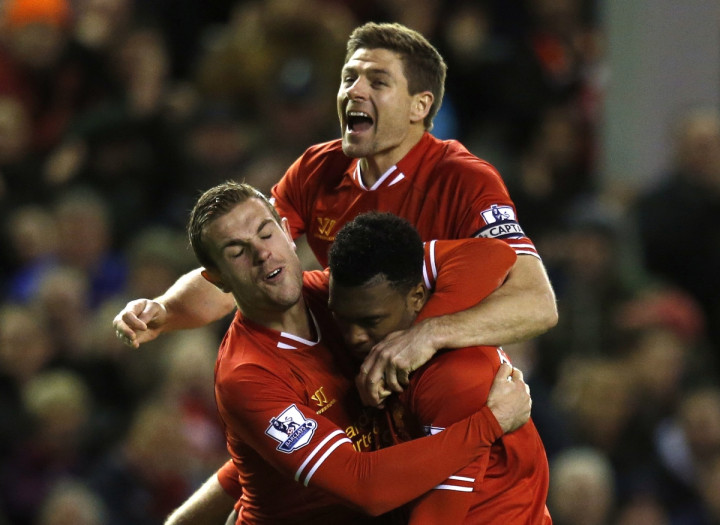 Liverpool midfielder Jordan Henderson is eager to regain a place in Brendan Rodgers' starting line-up for Saturday's game against Chelsea after being left on the substitutes' bench during the Champions League defeat against Real Madrid on Tuesday.
With the Premier League leaders visit to Anfield in mind, Rodgers decided to drop seven key players against the Spanish giants, including Henderson himself, Captain Steven Gerrard, and Raheem Sterling.
Henderson has claimed that even though he understands Rodgers decision, as the fringe player also deserved playing time, he was disappointed for missing such a big game.
"We've got a big squad and other people deserved to play. The Capital One Cup [tie with Swansea City] was probably one of the best performances, especially in the first half, of this season, in terms of keeping the ball, dominating possession and controlling the game," Henderson said to Liverpool official website.
"A lot of the players that played in that game deserved to play against Madrid. I was disappointed that I didn't have a part to play but hopefully I can have a good week's training and prove that I want to be back in the team for Chelsea."
The Merseysiders are sitting seventh in the Premier League table, 12 points behind Jose Mourinho's side, with only four victories from the first 10 games while the Blues are still unbeaten.
Henderson admits it is going to be a tough challenge but claims the game is also "a big opportunity" to prove they can compete with the Premier League giants.
"We know it will be a difficult game because Chelsea are a top side, but I think we can still go into it with plenty of confidence,
"It will be a big game for both teams and one that we're really looking forward to. It's a big opportunity for us to go out there and show how good we can be, especially against top opposition.
Nevertheless, the midfielder admits he has been impressed by Chelsea's stunning start to the campaign, securing eight victories and just two draws from the first ten Premier League games.
"I've been impressed with Chelsea this season. They have got some outstanding players but they are working well as a team, are defending very well and have scored some good goals. We know the quality they have got and it will be difficult," he said.
"But we've got a lot of quality in the team as well so we've got to make sure we're working as hard as possible. We know the quality will come through in the end. We've just got to keep working in training, look forward and have a lot of belief in the game."