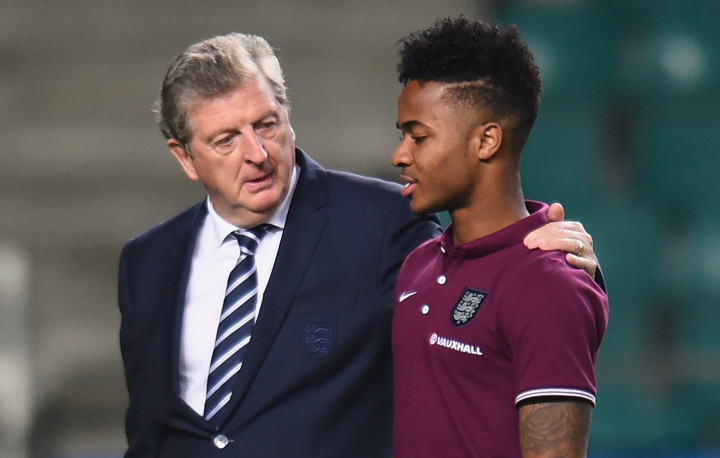 England manager Roy Hodgson has risked reigniting the debate regarding the handling of Liverpool winger Raheem Sterling after claiming Brendan Rodgers is mistaken regarding his omission from the start for the European Championship qualifier against Estonia.
Sterling claimed he was too tired to begin the Euro 2016 qualifier, instead coming on as a second-half substitute in Tallinn as England won 1-0 via Wayne Rooney's free-kick - but the episode caused furore over the handling of the 19 year old.
Liverpool boss Rodgers was led to believe that Hodgson had withdrawn Sterling from the start but the England coach has reiterated that the player approached him 24 hours before kick-off appealing to be left on the bench.
"In actual fact, Brendan is wrong [to assume I withdrew Sterling],'' said Hodgson. "Unfortunately I have 30 witnesses to that extent and Brendan was not there. He got the wrong end of the stick and I'd be happy to put him right.
"I'd be happy to talk to him about it. If a player came up to me one day before the game, when I was intending to play him, just before the session started, and said to me, 'I don't think I can train today because I'm feeling too tired', then I'd definitely leave him out.'
"I never said that Raheem said he was too tired to play,'' Hodgson added. "He did play [coming on in Tallinn] and got us the free-kick which won the game [with Wayne Rooney's strike]. I said he said he was too tired before training and as a result I left him out of the team. You better ask Brendan."
Hodgson, who was criticised by Liverpool for contributing to Daniel Sturridge's recent injury absence, has re-opened the debate regarding Sterling's fitness ahead of England's international double-header against Slovenia and Scotland in the coming week.
Rodgers had defended Sterling in the wake of reproach for pulling out of England's match, claiming he never stated he wanted to be left out, but the confusion over the issue threatens to further stretch relations between The FA and Liverpool.