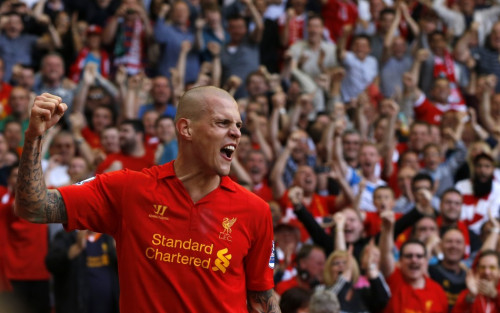 Liverpool centre-back Martin Skrtel claims that the Reds' target is still to finish in the top four to secure Champions League football next season - even though they are just four points behind leaders Chelsea.
The Reds took advantage of Jose Mourinho's team's draw at West Bromwich Albion by securing a late victory over Fulham. In the process they joined Chelsea, Arsenal and Manchester City in the Premier League title battle.
However, with Tottenham just three points behind Liverpool in the table, Skrtel believes that Liverpool have to focus on securing a top four spot, rather than thinking of the league title.
"We don't want to talk about the title - there are still too many games to play" Skrtel told Liverpool's official website.
"We are going from game to game, trying to get as many points as we can and then we'll see where we finish at the end of the season. Our main target is to get into the top four and I hope we can get there,"
The Liverpool centre-back is happy about how Liverpool twice came from behind against Fulham, but he admits that they made some mistakes.
"We are all happy because it wasn't an easy game for us. We were losing twice and got back into the game to get three points. We're very happy about that. We know that the performance wasn't the best, but the most important thing is the three points.
"We can defend better; we conceded two goals and a few times we didn't do our job. But I think we showed the spirit and desire to win. At the end of the day, we got the three points. At this stage of the season, that's the most important thing."
After beating Arsenal 5-1 last Saturday, Liverpool will face the Gunners again this weekend in the FA Cup, but Skrtel warns that it is going to be a completely different game.
"We have got three days to recover and get ready for Arsenal. It will be a different game than last Saturday. We want to go to the next round of the FA Cup so we'll do our best."