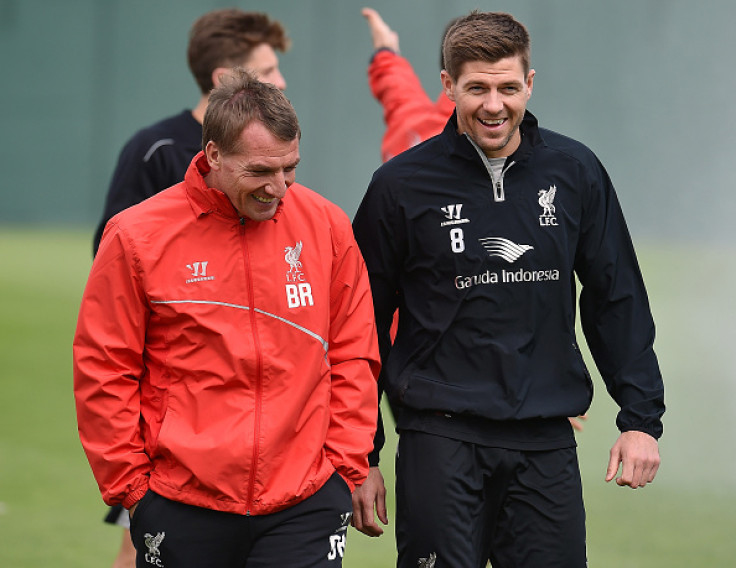 Liverpool's departing skipper Steven Gerrard has urged Brendan Rodgers to go into the transfer market and buy a top quality striker, who can provide the Reds with 25-30 goals a season.
The English midfielder, who is set to play his last game for Liverpool at Anfield on Saturday, 16 May, hopes that the board will back the manager to bring in few more additions that will help the team challenge for honours next season.
Gerrard is confident that the Merseyside club have the basis necessary to build a strong team in the future, due to the presence of a core group of players in Jordan Henderson, Raheem Sterling and Philippe Coutinho among others.
The 34-year-old skipper also believes that the manager should keep away from signing players with long-term potential and rather focus on ready made stars, who can come straight into the team and fight for wins.
"I don't want to stand on the owners or Brendan's toes. I am just speaking as a fan, but that is what we need to do. I wouldn't buy any more potential in the short-term. I would buy players that are ready to come and fight and win and be successful," the Reds' skipper explained, as quoted by ESPN FC.
"To get into the top four, you are going to need a striker who can score 25-30 goals a season. That is just the way it is. That is where we came up short this season."
Meanwhile, Gerrard believes that Liverpool have done well this season, despite ending up trophy less yet again and failing to qualify for the Champions League after just a brief appearance in the competition this season.
"We've gone very close in a couple of cup competitions this year and we've also come close to the top four positions, and that's with losing arguably the best player in the world last year in Luis Suarez."
"We've also not had our star striker available for most of the season in Daniel Sturridge, so to come so close without them two available... I think we've done okay but I think next year we can go one better," the former England captain concluded.