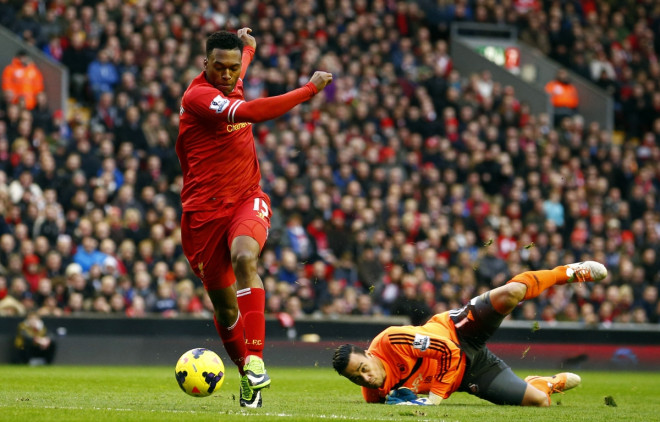 Liverpool striker Daniel Sturridge has revealed that he holds no thoughts of regret in leaving Manchester City during the early stages of his career.
The England international initially rose through the Citizens' youth academy and lack of opportunities prompted him to join Chelsea in 2009. However, there was no significant progress for Sturridge at Stamford Bridge, being forced to play as a winger as opposed to his desired striking role.
However, the 24-year-old's career has seen a steady rise since moving to Anfield during winter last year, where he is enjoying life as a goal scorer.
Sturridge currently stands second in the Premier League's scoring charts with 20 goals, nine behind his Liverpool teammate, Luis Suarez.
"I would not have got to where I am today if I had stayed. It was difficult for me at Manchester City as a young player aged 18 or 19, with all the money they have," Sturridge told the Daily Mirror.
"Realistically, you look back and they only have Micah Richards from the academy playing for the club's first team - everyone else has been signed by Man City, so I feel I made the right decision leaving there."
"At first, it was a matter of learning from the likes of Didier [Drogba], and I thought I would get my opportunity sooner, but they didn't believe in me as a centre-forward."
"They always said, 'You're not a centre-forward, you're a winger' - that's how they saw me, but that hurt me because I've played down the middle all my life. The pitch has always been where I've been able to express myself the most, where I feel happiest, and I was deprived of that opportunity at Chelsea," he added.
But, Sturridge insists that he is no longer concerned about what happened previously in his career and wants to concentrate and build on his present situation at Liverpool.
"First and foremost, I feel blessed that I'm at a club where I can push myself to the limit, always listening to my team-mates and especially the manager. This is a time in my life I'll always remember because of everything that's gone on in the past," Sturridge explained.
"It's difficult when you are not playing for so long. Young players do get wrapped up when they are at a big club and they are not playing, so it's been a whirlwind 15 months since I joined Liverpool," the striker concluded.