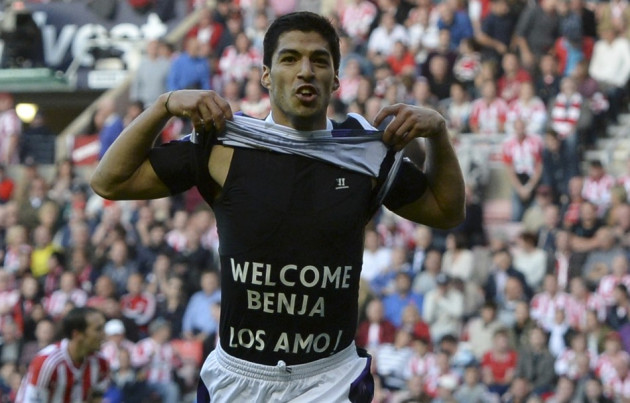 Luis Suarez's representatives are already in talks with Real Madrid as they attempt to negotiate a deal that would see the controversial striker leave Liverpool for the Spanish giants during the January transfer window.
The Uruguay international made his intentions to leave Liverpool clear over the summer but the club refused to give in to his demands as they rejected two bids from Premier League rivals Arsenal.
Suarez indicated that he would love to represent Madrid at some stage in his career but chairman Florentino Perez decided against bidding for the striker in favour of completing a world record deal for Gareth Bale.
However, according to Spanish publication Punto Pelota, Madrid are in contact with Suarez's representatives as they consider making an offer of €50m when the transfer window opens at the start of 2014.
Suarez has just returned to first team action with Liverpool and made an immediate impact in the Premier League as he fired two goals in the 3-1 win over Sunderland at the Stadium of Light.
Liverpool boss Brendan Rodgers has been keen to bring Suarez back into the fold but reports in Spain suggest that the pair still have a frosty relationship after the 26 year old claimed that promises had been broken and that he would have been allowed to leave if they didn't qualify for the Champions League.
Rodgers must harbour some concerns that Suarez will once again seek to leave the club but he will have been buoyed by the performances of his team before the striker returned from his 10-match ban.
Meanwhile, Carlo Ancelotti has endured a difficult start to his managerial career at Real Madrid, losing to Atletico Madrid and finding themselves five points behind their local rivals and Barcelona who currently top the table.
With Karim Benzema receiving criticism for his performances, Madrid may well be in the market for a new striker come January and certainly have the funds to convince Liverpool to part with their prolific forward.