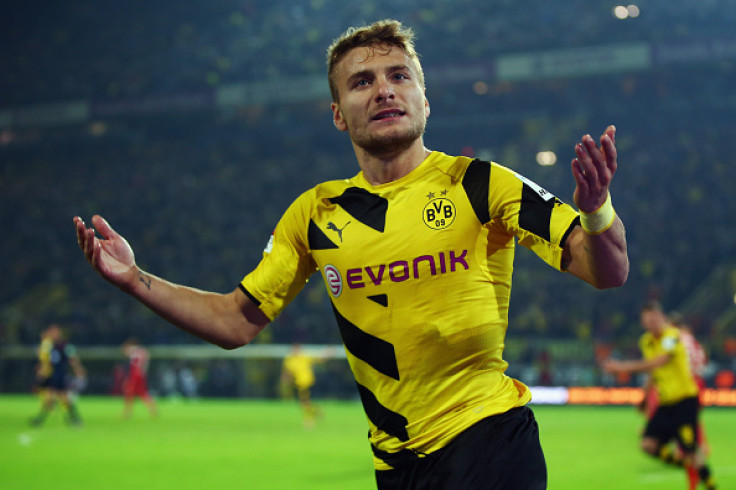 Borussia Dortmund striker Ciro Immobile has rubbished talk linking him with a move out of the club.
Liverpool were reportedly interested in the striker but Immobile has come clean on his aspirations for the future, stating that he wants to replicate Robert Lewandowski in his second season at the club.
The Pole scored only seven goals in his first season under Jurgen Klopp but has since realised his potential to elevate himself to one of the best strikers in Europe, coming close to winning the Champions league with Dortmund in his penultimate year at the club.
However, Dortmund fans will be hoping that Immobile does not share the same fate as Lewandowski, who went on a free transfer to Bayern Munich after refusing to extend his contract.
Meanwhile, the Italian, who was the highest scorer in the Serie A last season, is trying his best to arrest his poor form and help Dortmund in their race for a Champions League spot, which looks a distant possibility, given their form in the first half of the season.
"I chose my path and I'm going to follow it all the way to the end," Immobile told SportWeek, as quoted by talkSPORT.
"I would do this again. I feel I'm at the right level to play with Borussia Dortmund.
"After the [German] triumph in the World Cup some of our players were a bit too distracted and we could not replicate in the matches what we were doing in training.
"The hardship I encountered when coming into this team didn't help me integrate myself. But it's not true that [Borussia Coach Jurgen] Klopp doesn't help me. We talk a lot.
"People only remember what they want to remember. Even [Robert] Lewandowski only scored seven goals in his first year, then he started winning and scoring and he left a good memory of himself.
"Hopefully I'll get the same opportunity," he concluded.