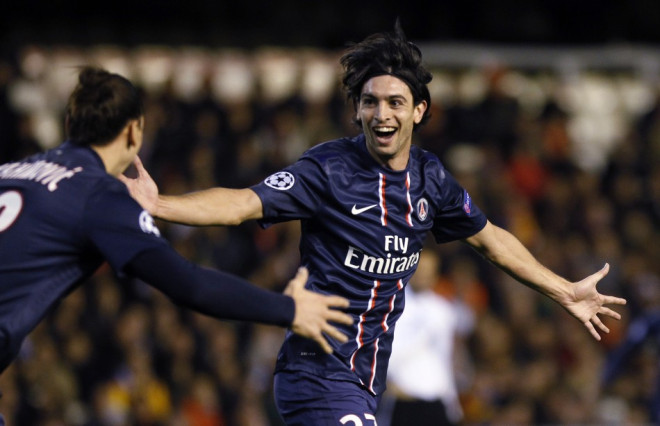 Liverpool have suffered a major blow in their pursuit of Paris Saint-Germain midfielder Javier Pastore, with the player's agent stating that he is unlikely to make his way out of France in the summer.
The midfielder was linked with a move out of the club after failing to make Laurent Blanc's starting eleven on a regular basis this season.
However, his contribution in the Champions League, where he scored a brilliant third goal to beat Chelsea 3-1 in the first leg of the quarter finals of the Champions League in France, has taken him back into contention.
Pastore has only 12 league starts this season and was linked with a move in January, which failed to materialise owing to unforeseen circumstances. In spite of the same, his agent Marco Simonian insists that the situation has changed and the 24-year-old is happy to extend his stay with the European giants.
The midfielder had made the move from Palermo in 2011 for a French record sum of £37m but has not been able to reach his potential over the course of his stay.
"He feels good with his team-mates and the staff and works every day to keep playing for PSG. He thinks only of PSG, and I can assure you that this is the truth," Simonian told Le Parisien.
Meanwhile, Brendan Rodgers has revealed that his defensive pair of Martin Skrtel and Daniel Agger do not fear big men like Andy Carroll any more and are ready to dig in when necessary.
"It's one where hopefully, as time has gone on, they understand the concepts that I want. I don't want rash defenders. I want defenders to work with intelligence," Rodgers said.
"You've seen Martin Skrtel's form. He very rarely goes to ground now. He very rarely gives away free-kicks. His intelligence as a defender is first class. His aggression to go and attack it at the right time has been first class. Daniel Agger is a No2 centre-half who can go and head it and cover. And when he's not available for whatever reason we have Mamadou Sakho, who is aggressive, strong and can really dictate to the opponent. It's all part of the learning and hopefully we've learned. We've come up against big centre-forwards and dealt with it well," he added.