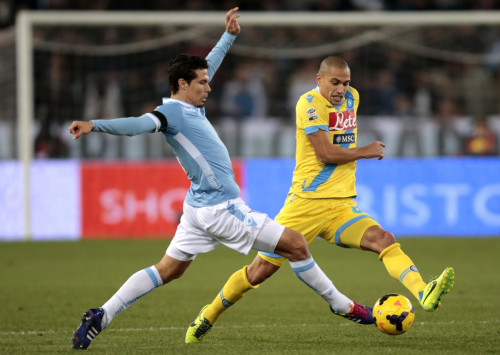 Liverpool must make a bid in excess of £15m is they are to sign Lazio midfielder Hernanes, according to the Serie A giants.
Hernanes is an integral figure in the Lazio first team, having scored three goals in 16 league appearances this season as the Rome-based side chase down a return to the Champions League.
The 28 year old has entered the final 18 months of his contract and a new deal is still to be discussed – raising concerns over his long-term future in the Italian capital.
However, club president Claudio Lotito says Lazio will require a bid over £15m in order to part with the Brazilian.
"I do not want to sell him, we will have to receive an indecent offer - £15m will not be enough," he said.
Arsenal and Tottenham Hotspur have both formerly been linked with his signature but Liverpool have been persistently mentioned with regard to signing the midfielder.
Hernanes told Lazio Style Radio in November: "I want to deny all of those market rumours about me.
"I have a contract with Lazio and I want to respect it with the same passion and professionalism that I have had from the beginning.
"During training I do what is asked of me and more and I have played matches when I haven't been 100 per cent, taking risks.
"Extending my contract? I will never ask for a renewal. If the club thinks I deserve to stay here, they'll call me and we'll talk. I still have 18 months left and there are other players in the same situation."
With Brendan Rodgers seeking a replacement for captain Steven Gerrard it comes as no surprise that Liverpool are chasing Hernanes however the Italian club appear unwilling to part with one of their star players.
Liverpool are expected to make at least one significant signing in the January transfer window in order to boost their attempts to return to the Champions League, a race they currently lead Tottenham Hotspur on goal difference ahead of next week's Merseyside derby against Everton.