Real Madrid striker Alvaro Morata has dismissed rumours of a move of a summer transfer to Liverpool. The Premier League club were linked with a £6m bid for the 20-year-old Spain U21 International, after overseeing the arrival of two other young Spaniards in Iago Aspas and Luis Alberto.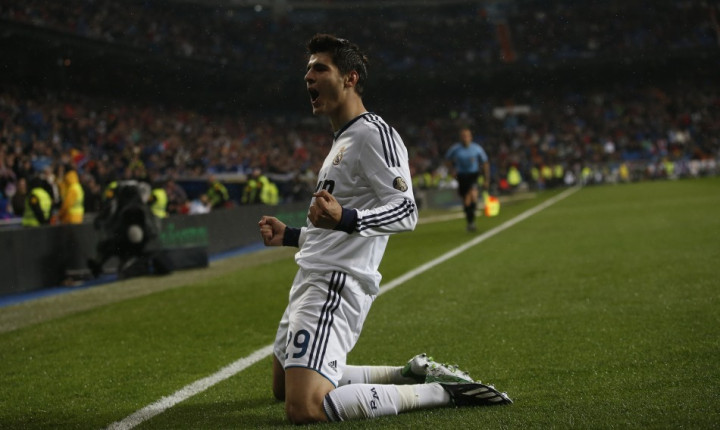 However, Morata has now not only ruled out a switch but also insisted he has received no offers so far, whether from the Reds or anyone else.
"I'm training well and want to stay in Madrid. The club and coach want me to stay. I do not have to turn down any offers because I have not received any. I just want to play here. It is important to receive minutes and to score goals, and the more minutes you get, the more chances you will score," the Castilla product said.
Morata was in fine form during the European U21 Championships, held earlier this summer, scoring four goals and creating two more to help his country to the title. He also made 12 appearances for the Santiago Bernabeu club's first team under Jose Mourinho last season, scoring against Rayo Vallecano and Levante. In addition, Morata also started the Clasico against Barcelona in March, setting up France international Karim Benzema for the opening goal in a 2-1 win.
The problem for the young Spaniard though is both Benzema and Argentina international Gonzalo Higuain stand between him and a central striker's role. And any thought of shifting to the flanks or dropping into the hole means Morata will face competition from the likes of Mesut Ozil, Angel di Maria and new signing Isco, not to mention a certain Cristiano Ronaldo.
The good news for him is Higuain's future at the club appears uncertain, with Arsenal, Chelsea and Napoli all linked to the 25-year-old. Nevertheless, Morata remains cautious and refused to comment on transfer.
"Higuain? It is up to the club, but I see him with the same enthusiasm as always. Cristiano? I do not imagine that he will leave. He is the best in the world and has to be on the best team in the world. I am a fan of his," he explained.
Morata does have one other option though - Getafe. The Madrid-based club have a history of picking up fringe players from their neighbour's academy and developing them into surprisingly good players, with Dani Parejo and Esteban Granero two examples.
However, club president Angel Torres has admitted he does not see Madrid releasing Morata this summer, which is likely bad news for Brendan Rodgers and the Anfield chiefs.
"We made a request to Real Madrid. But I think there's very little chance of him joining. After last season he deserves a place in their first team," Torres said earlier this month.