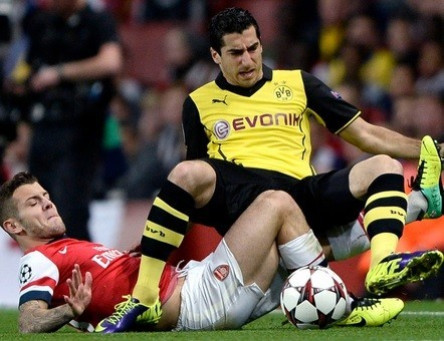 Former Shakhtar Donetsk midfielder Henrikh Mkhitaryan has revealed that he snubbed Liverpool to move to Borussia Dortmund for footballing reasons.
Brendan Rodgers was extremely interested in signing the Armenian international but Jurgen Klopp snatched him at the last moment, leaving Liverpool supporters disgruntled. The 24-year-old had potential to earn more in England but insisted that such a thought never crossed his mind as he was more inclined towards developing his footballing side of things than anything else.
Mkhitaryan scored the opener for Dortmund in Champions League tie against Arsenal, a tournament which would have eluded him if he had made the trip to Merseyside. He also revealed that fear of sitting on the bench in England was also a driving factor in his decision and that football is the only thing that occupies his mind. Mkhitaryan's presence would have given Brendan Rodgers more attacking impetus, an area in their game which needs immediate attention, as was seen in their 2-0 loss to Arsenal at the Emirates.
"Yes, I had many options, but I decided on Dortmund because I like the type of football that is played here. Since we played with Shakhtar in the Champions League against BVB, I've watched all Dortmund games on TV. BVB has not only played fantastic football but also a [style of] football that suits me. I thought: 'This is a team where I can grow, can develop,' " Mkhitaryan said as quoted by Goal.com.
"Money is not so important in football. There's only room for football. I live football, think football, feel football, and if I play well, the money comes anyway. I have come to Dortmund to play and not to sit on the bench, as might initially have been the case in England," he added.
The player also showered praise on Dortmund manager Jurgen Klopp, who signed a two year extension with the club a few days back and believes that it is in the club's interests to tie him to a long term deal.
"That's really good news. It's really fun to work with him. It's just a joy to talk to him. Jurgen Klopp is a great coach and a great man," he concluded.