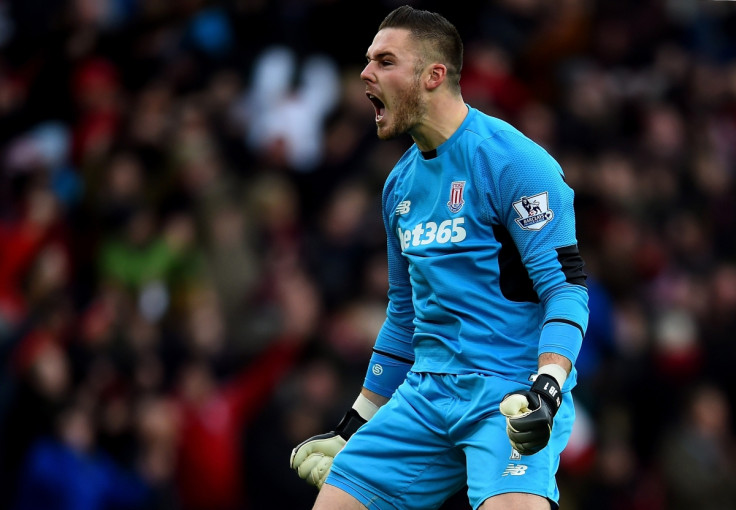 Stoke City goalkeeper Jack Butland has ambitions of reaching the pinnacle of the game but has dismissed report linking him with a move to Liverpool. The England international had kept six clean sheets in 15 Premier League games this season and has been the standout figure of Mark Hughes's Potters side.
The Sun had reported that the Reds were looking to replace current stopper Simon Mignolet with Butland in a £20m ($30m) deal, however both Hughes and Jurgen Klopp have denied such an agreement may be reached. The 22-year-old has now responded to the speculation for the first time and confirms he is happy at the Britannia Stadium.
"I do want to play at the top but, at the minute, I can't fault where I am," Butland told Sky Sports when reports of Liverpool's interest were put to him. "I'm in a brilliant, brilliant squad who are playing extremely well and things are looking really bright for the club.
"Right now I can't see any better place for me to be. I'm learning every week, I'm playing with some great players – the goalie coach [Andy Quy] I'm really happy with, and learning a lot from the staff as well."
Klopp has been coy over Liverpool's transfer dealings since his arrival in October but has ruled out signed a replacement for Mignolet, who has come in for criticism for a failure to play the ball out effectively from the back. The Belgian was signed from Sunderland by Brendan Rodgers in the summer of 2013 but has been unconvincing between the sticks.
Both Stoke chairman Peter Coates and Hughes have been adamant Butland will not be leaving the club in the near future, with the manager calling into question Liverpool's supposed valuation of the former Birmingham City man. "Jack's going nowhere," the former Wales international stated.
"People are aware of him – and they have been for a long time. Do I think [£20m] that's a fair value? No. We wouldn't place a value on him. Jack forced his way into the England squad when he was 19. He's had a great career progression, every step he's taken he's dealt with. Now it's about consolidating himself in a very good Premier League team. That's the challenge for him."