Barcelona goalkeeper Victor Valdes has denied reports linking him with a transfer out of the club. The 31-year-old Spanish international took to Twitter to explain his situation but was clear in not ruling out a move away from the Nou Camp, suggesting Anfield fans might still see the World Cup, European Championship and Champions League-winning shot stopper at the club.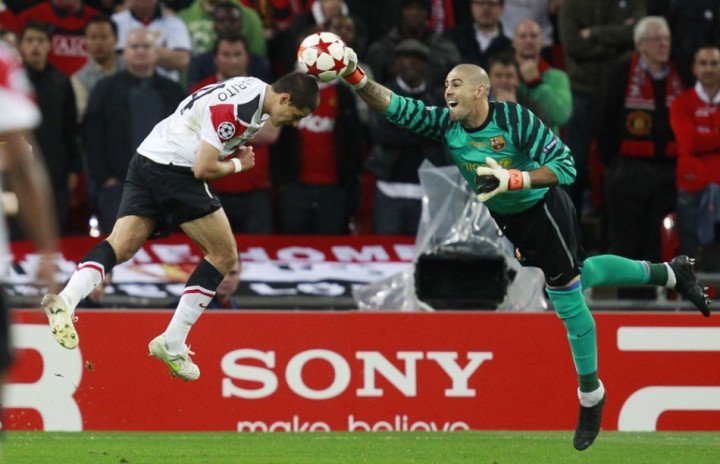 "Hi everyone, I want to declare that I haven't said anything regarding my future yet - I will do when the time comes. Everything that has been said in this respect are speculations," Spain's No 2 tweeted.
Valdes has 18 months left on his contract with Barcelona and an earlier report by the Mirror suggested talks over an extension were not proceeding favourably. It is believed Valdes is unhappy at being paid less than other stars in the Catalan club's first team, most notably compatriots Xavi Hernandez and Andres Iniesta. Should Barcelona and Valdes be unable to come to an understanding, a fee of £16m could be enough for the Nou Camp club.
Liverpool's present No 1 is also a Spanish international. Pepe Reina signed for the Reds from Spanish second division side Villarreal but the Madrid-born shot stopper is believed to be a target for Brendan Rodgers' Premier League rivals Arsenal, who believe Reina will provide excellent competition and cover for No 1 Wojciech Szczesny.
Although there has been no official approach for Reina from Arsene Wenger, confirmation Liverpool were in negotiations with Championship club Birmingham City over the transfer of 19-year-old England international Jack Butland suggests Rodgers is aware he might lose Reina and is planning for alternatives.
Meanwhile, in the tale of the goalkeeper merry-go-round, should Valdes move to Anfield, Goal.com suggests Barcelona could look to Manchester United's David De Gea as a first choice option. The former Atletico Madrid No 1 is reported to have lost the confidence of his manager, Sir Alex Ferguson; the Daily Mail has linked the Old Trafford club to Stoke City's Asmir Begovic.
A bid for Begovic aside, De Gea's future with the Premier League leaders appears to be in doubt, after it was reported Spanish champions Real Madrid were also interested in his services. The news came after a highly publicised falling-out between Madrid No 1 and captain Iker Casillas and coach Jose Mourinho, suggesting the 31-year-old Spanish No 1 was on his way out of the Santiago Bernabeu.