Liverpool are reportedly very close to signing Chelsea youngster Daniel Sturridge, according to Goal.com. The 23 year old England international was linked with a loan move to Anfield in the summer but BBC Sport reported negotiations broke down after demands of a permanent transfer.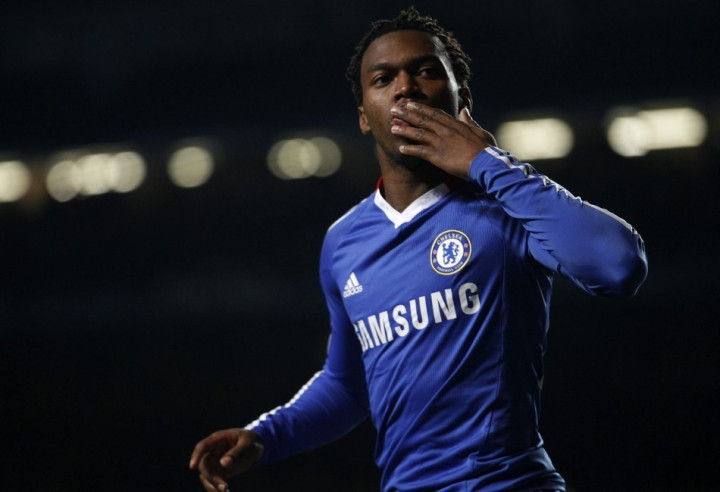 Goal.com states Liverpool manager Brendan Rodgers wants the ex-Manchester City youngster to create a free-flowing attacking trio up front for his club. The idea, it would seem, is to partner Sturridge with Uruguayan international Luis Suarez and Reds' youngster Raheem Sterling (or a third option) to create an attacking system similar to that employed by Spanish and European giants Barcelona.
"Sturridge wants to go down the middle rather than out wide but he will not be permanently handed the No 9 position he craves. Brendan wants fluid strikers who can play in a variety of positions. You will not see Suarez or Sturridge playing up front all the time," an Anfield source was quoted.
"It will be a case of keeping the defenders guessing by the players interchanging positions, from game to game and often within the matches themselves. That's why Andy Carroll was loaned out, because he can only play one role. Brendan likes forwards who can play wide or through the middle," this unknown insider added.
Sturridge's move to Anfield was earlier believed to be in jeopardy, after talkSport reported demands of £80,000 per week and a guaranteed striker's role. The claim, however, was rebuffed by his management agency.
"Daniel Sturridge does not conduct his business in public. He also does not make demands in any negotiation, with regards to salary or his playing position. Any contract between a club and a player has to be based on mutual agreement," Octagon announced.
Alternatives
Meanwhile, Liverpool have also been linked with Basque forward Fernando Llorente. The in-demand 27 year old Athletic Bilbao forward has confirmed he will leave the Spanish club at the end of the season and has been linked to a number of clubs, including Italian champions Juventus. However, a Sky Sports report quotes the forward as saying he has yet to agree a deal with any of the interested clubs. Liverpool have also been linked to Birmingham City goal keeper Jack Butland. The 19 year old shot stopper is believed to be a direct replacement for 30 year old Spanish international Pepe Reina.