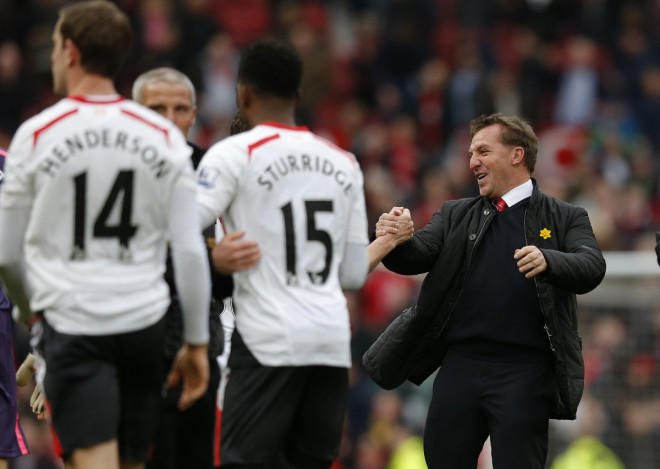 Brendan Rodgers has revealed that Steven Gerrard was on the verge of joining Chelsea when the former Swansea manager was a youth coach with the Blues.
Gerrard was close to making the shift to West London but changed his mind at the last moment and signed a new contract with the Reds.
Moving to Chelsea would have done wonders for Gerrard's career on the trophy front with the Blues having won three league titles, four FA Cups, two league Cups, the Champions League and the Europa League in the last decade.
His allegiance to Liverpool has won him the Champions league in 2005 but failed to offer him any league glory as Liverpool look to end their 24 year drought without the title this season.
The Reds are currently top of the league with three games to go, as Rodgers reminisces about the time when he was actually in favour of Gerrard to make the journey to London.
"We all thought it was a done deal. Then one day, after training, we were in the canteen when it flashed up on TV that Steven was going to sign a new deal with Liverpool. Thankfully for me and the Liverpool supporters, he stayed. It would be fitting if we could do something special this year for him," Rodgers said.
The manager insists that there are more to trophies and money which kept Gerrard at Merseyside and that the player is happy with his decision to stay here.
"I've seen some poor players win the Champions League and I've seen really bad players win other trophies. They cannot be happy with that. It is about what defines success for you. Jamie Carragher will never win the Premier League, but he played 737 games for a club of this size and won 11 major honours," Rodgers explained.
"If Steven wins the Premier League is that worth three or four times what it would be if he'd won it somewhere else? I think so. Steven knows that whatever he's achieved in football, he has been true to his own values and the values of his club.
"For him it's all about Liverpool. For others it will be: right let's get the trophies here, let's get the money there.
"If he wanted money or more trophies, Steven could have easily have walked out of here. But knowing the man after working with him for two seasons, he is more than that," he added.