Liverpool play Manchester United in the first game at Anfield since the publishing of the Hillsborough report.
Jonjo Shelvy is sent off for a lunge on Jonny Evans.
Steven Gerrard scores after 46 minutes
Rafael equalises after 51 minutes.
Van Persie scores penalty after 80 minutes.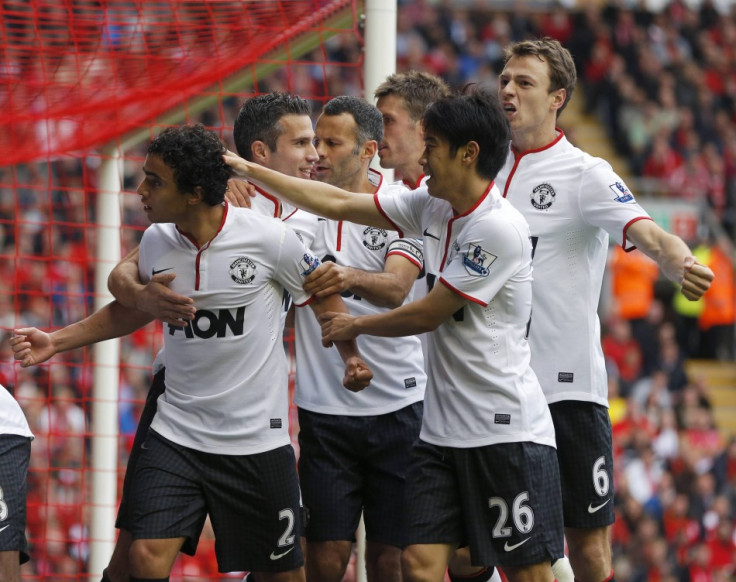 15:28: Despite dominanting the game for long periods, Liverpool's wait for a first league win of the season continues as Manchester United win a controvercy filled encounter at Anfield. The dismissal of Jonjo Shelvy swung the game in United's favour despite Steven Gerrard scoring after the interval, with Rafael and Van Persie taking advantage to hand the visitors their fourth win in a row in the league.
Full-time: Liverpool 1-2 Manchester United
15:22: United dominanting the play as time ticks away for Liverpool. Martin Kelly goes down very awkwardly and leaves the field leaving the home side down to nine men with two minutes left. Reina's clearance is towards Skrtel but Lindegaard gathers.
15:18: Five minutes added on time at Anfield. Danny Webeck comes on for Rafael. Can Liverpool find a second?
15:14: The Kop is asking for a red card for Van Persie after he slides in on Saez but Halsey gives just a yellow to the Dutchman.
15:11: Liverpool almost reply immediatly and it's the two full backs who combine. Johnson cuts inside and whips a cross in towards Kelly, who jumps above Evans and Evra to head beyond Lindegaard, but wide of goal.
15:10: In the midst of that, Agger was replaced by Jamie Carragher and Javier Hernandez came on for Shinji Kagawa. Eight minutes left, but there will be a chunk of stoppage time for the treatment on Agger.
15:08: Valencia beats Johnson and Gerrard to the ball and United have got three on two, the winger goes on his own but Johnson comes back and makes a sloppy tackle back and Halsey gives a penalty to United. Having missed their last three kicks, there is plenty of pressure on Van Persie, who has to wait an age to take the penalty as Agger receives treatment. Reina chooses the right way, but can only get a hand to it as the ball finds the corner.
Goal: Liverpool 1-2 Manchester United (Van Persie penalty)
14:59: Suarez has run the lines especiually well today against Ferdinand and Evans and again he is away from the centre back pair and from a tight angle fizzes a shot just wide of Lindegaard's right-hand post.
14:54: You'd be forgiven for forgetting Liverpool still had eleven-men and Suarez again gets free, and tees up Saez, who stings the palms of Lindegaard who turns the ball over the bar. Jordan Henderson replaces Raheem Sterling.
14:50: United have defended against Suarez like it's the first time they've seen him play, and the striker has had all the time in the world around the penalty area. He again escapes United's attention and shoots left footed, an effort which Lindegaard does well to palm away.
14:48: Real helter skelter encounter this now and United almost hit the front on the break. Van Persie finds Evra who bursts up the left and when the Frenchman is again found on the left by Kagawa his cross is just behind his Dutch teammate.
14:46: Rodgers has to praised for bringing on Saez, with Gerrard released into a more attacking role, and that contributed to the opening goal in front of the Kop. Liverpool have two penalty appeals turns down by Mark Halsey, but both Evans and Scholes got the ball in the challenges with Suarez and Sterling. The Kop, as you can imagine, felt otherwise.
14:42: Scholes has already made a difference for United in helping control the play in midfield, and United convert their newly found dominance into a leveller. Rafael darts through into the penalty area, and after exchanging passes with Valencia, floats a delicious curler beyond Reina into the far corner. Brilliant goal.
Goal: Liverpool 1-1 Manchester United (Rafael)
14:39: There were to changes at the break for either side with Saez replacing Fabio Borini and Paul scholes coming on for Nani. United now dictated the play having gone a goal down.
14:37: Liverpool continued from where they left off in the first half and hit the front less than a minute after the restart. Glen Johnson tricks his way through the United defence but the ball finds it's way to Gerrard, who chests the ball down on the penalty spot and steers past Lindegaard.
Goal: Liverpool 1-0 Manchester United (Steven Gerrard)
14:34: We're underway in the second half at Anfield.
14:32: I'm not sure Jonjo Shelvy can have much of a arguement for his sending off after fouling Jonny Evans. The ball is there to be won, but he lunges in on the United centre-back and catches him high up on his left leg. Evans goes in too but the contact is made by Shelvy. Mark Halsey had an excellent view.
14:21: Having had Jonjo Shelvy sent off, Liverpool boss Brendan Rodgers will be frustrated that his side couldn't take advantage of their overwhelming dominance prior to going down to ten-men. While no clear cut chances have been created, the hosts have made all the running in the final third with Suarez going close on two occasions. United, as they have had a tendency to do so at Anfield in recent years, haven't got going at all, with Robin van Persie and Antonio Valencia peripheral figures.
Half-time: Liverpool 0-0 Manchester United
14:16: The game has been played in a good spirit for the most part, but maybe that red card will change things. There's another coming together between Ferdinand and Suarez in the United box. Replays also show a confrontation between Shelvy and Ferguson following the England under-21 international's dismissal. Two minutes of added on time.
14:13: Suarez wins a free-kick after a challenge by Rio Ferdinand and the Uruguayan steps up and whips an excellent effort which Anders Lindegaard turns away.
14:11: The game's first flashpoint and it sees Jonjo Shelvy dismissed for Liverpool. The midfielder nips the ball away from Ryan Giggs but as Jonny Evans gets to the ball first he dives in on the United defender. His right foot lands just below the knee of the Northern Ireland international and Mark Halsey has no choice but to show a red card to Shelvy.
Red Card: Jonjo Shelvy (Liverpool)
14:05: It's been abll about Suarez and Sterling for Liverpool so far, and the former forces a corner after again being allowed to much space around the United box. Gerrard's subsequent corner is overht and it goes out for the goal kick. Lacking a real spark this one.
14:01: Away from matters on the pitch and BBC Radio Five Live commentator Darren Fletcher says Manchester United fans have been chanting: "Where is your famous Munich song?" Perhaps it was too much to ask United fans to keep quiet. Disgraceful.
13:58: Sterling comes off the right wing and darts inside, finds Suarez, who with the 17 year old creating a decoy run, opens his body but can only curl his effort wide of the left-hand post.
13:56: Ferdinand is back on the pitch but looks to be struggling with a groin injury. Mid-way through the first half and we're yet to have a clear cut chance. Bit subdued at Anfield it has to be said.
13:53: Liverpool are asking for a penalty. Steven Gerrard's terrific cross comes all the way through to Daniel Agger who while wrestling with Jonny Evans goes to ground as the ball goes through to Lindegaard. Rio Ferdinand meanwhile recieves from treatment for an injury and is walking gingerly from the field. Doesn't look good.
13:48: Not been an ideal start for Nani. The Portuguese winger is tackled as United looked to build an attack while after being found by Giggs he fails to find the Welshman with a sloppy ball down the left. Not got going the 12-time Premier League champions.
13:45: Liverpool again on the front foot. Suarez drops deep and is allowed to turn and find Borini, who gets in behind but his first touch takes him away from goal, and he can't find a red shirt from a tight angle. Home side have started the better.
13:39: That's more like it. Suarez picks the ball up in the inside right channel, and plays te ball across the six-yard box where Lindegaard, starting ahead of David de Gea, palms the ball away as Borini was looking to steal in. Rafael now heads away Sterling's cross for a corner, which sees Gerrard break free but he can only find the side netting. Big let off for United.
13:36: Little to report after six minutes at Anfield. Neither side have threatened in the attcking third. Steven Gerrard's corner is cleared, while at the other end Ryan Giggs shoots over from 20 yards. Tense opening.
13:33: An image of Anfield prior to kick-off. A wonderful tribute.
13:31: Both sets of players are wearing the number 96 on their jackets pre-match as they both emerge. The handshakes pass off without incident too. Sir Bobby Charlton presents flowers to Ian Rush, while Steven Gerrard and Ryan Giggs release 96 red balloons as a tribute to those supporters who died at Hillsborough in 1989.
The whole stadium unite in a round of applause and then a rendition of 'You'll Never Walk Alone' as the words 'Justice', 'The Truth' and '96' are displayed across the stands at Anfield. A truly superb tribute from both clubs.
Mark Halsey gets the game underway.
13:23: While conducting his pre-match interview alongside Ferguson in a display of unity between the two clubs, Brendan Rodgers said: "This is an opportunity to offer respect to families who fought tirelessly for 23 years.
"We want to pay tribute to those families and those who lost their life. Liverpool and Manchester United are two iconic clubs and we have an obligation to football as a whole, so hopefully it all passes off with peace and we can concentrate on the football. I have spoken to Luis [about the pre-match handshake with Patrice Evra], and there will be no problem."
13:20: Sir Alex Ferguson, who sent a letter to every visiting supporter ahead of today's game, said in his pre-match interview: "I think we have embraced the situation and made all the appeals to the fans and hope they adhere to the situation Liverpool fans find themselves in.
"Ourselves and Liverpool are the most successful teams in England. I don't anticipate any problems with the handshake before kick-off. Anyone watching today will see one of the biggest derby games in the world. Passion, intensity, it is all there. We sometimes see bad games because the pressure can get to the players."
13:15: Sterling becomes the youngster Liverpool player to start against United, and third youngest in the fixture's history after Duncan Edwards and Lee Sharp according to Sky Sports.
Vidic's omission for United is not injury related according to Sir Alex Ferguson, who says the Serbian defender has been rested for the trip to Merseyside. The 30 year old has been sent off three times against Liverpool, including twice at Anfield.
13:10: If we turn our attention to footballing matters momentarily, and the big team news from Anfield is the omission of United captain Nemanja Vidic, with Jonny Evans partnering Rio Ferdinand at the centre of defence. Ryan Giggs captains the visitors and as expected, Patrice Evra returns while Antonio Valencia and Nani partner Robin van Persie in attack.
For the hosts, Glen Johnson continues at left back while Jonjo Shelvy earns a starting spot after his two goals against Young Boys in mid-week. Raheem Sterling starts on the wing.
13:07: Teams:
Liverpool: Reina, Kelly, Agger, Skrtel, Johnson, Allen, Gerrard, Shelvey, Borini, Sterling, Suarez.
Substitutes: Jones, Enrique, Sahin, Assaidi, Henderson, Carragher, Suso.
Manchester United: Lindegaard, Rafael, Ferdinand, Evans, Evra, Carrick, Giggs, Valencia, Kagawa, Nani, Van Persie
Substitutes: De Gea, Anderson, Hernandez, Welbeck, Scholes, Cleverley, Buttner.
Referee: Mark Halsey
13:00: Never has an encounter between Liverpool and Manchester United been more overshadowed in the build up. All the talk has been over the behaviour of this afternoon's away supporters amid the tributes for the Hillsborough disaster.
The families of the 96 Liverpool fans who lost their lives on that fateful day in 1989 learned the truth behind the events 11 days ago, news that United fans decided to mark during the home game with Wigan Athletic with chants mocking the fallen.
Today's encounter is Liverpool's first match at Anfield since the news of the Hillsborough report was published and is expected to be marked with a number of pre-game tributes, but the conduct of both sets of supporters is expected to be under the microscope throughout.
Oh, and there's the small matter of a potential handshake between Luis Suarez and Patrice Evra, at the scene of the pair's confrontation during last season, which ended with an eight match ban for racial abuse for the Uruguayan striker.