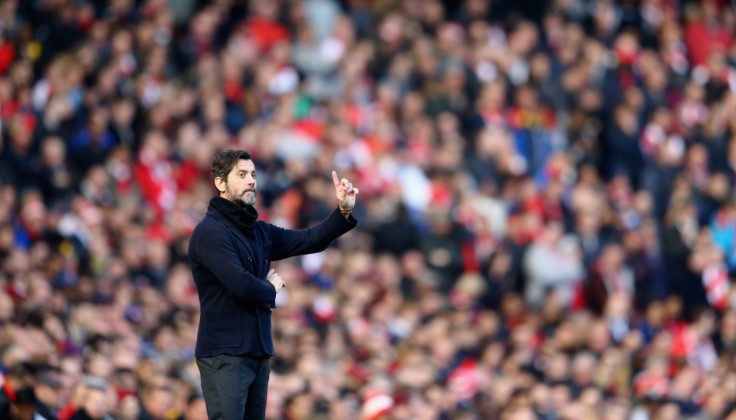 Quique Sanchez Flores has revealed that Jurgen Klopp was worried about Liverpool's results when Watford thrashed them 3-0 in December last year. However, the Spaniard has said the Reds have turned things around since then, warning his own players they will face a completely changed side on their trip to Anfield on Sunday (8 May).
Last December, Watford sat seventh in the table following a flying start to life in the Premier League under Sanchez Flores. The Merseysiders, meanwhile, had replaced Brendan Rodgers with Klopp in October, and were sat ninth in the table, on the back of a draw with WBA and a loss to Newcastle United.
The situation has changed dramatically since, however, with the Hornets only winning four league games since, and being knocked out of the FA Cup in the semi-finals by Crystal Palace.
Liverpool, meanwhile, booked their place in the Europa League final after beating Villarreal 3-0 on Thursday night. They sit eighth in the Premier League.
Sanchez Flores is fully aware of Liverpool's change in fortunes, as well as the intimidating atmosphere Anfield poses.
"I know how it is to play at Anfield. I went there with Atletico Madrid five or six years ago in the semi-final of the Europa League," the Watford boss pointed out. "I know all about the atmosphere and the support from the stands, they push the team a lot."
"Now they're in a good run and Liverpool have changed a lot. I remember my conversation with Jurgen Klopp after the match at Vicarage Road and he was a little bit worried about their results.
"You know need to know the league, the players and the squad and he'd only been in the Premier League a short while, but I remember the conversation and I said he didn't need to worry. He's a good manager and for sure his team were going to improve.
"I love this coach, first because I love how he manages the squad and the players, and I love his idea of football. Just like when he was at Dortmund, they play quick, they play with quality players who are skilful, quick and clever, and these are the players he likes and he chooses for Liverpool."
Sanchez Flores still believes his side can take a positive result from Liverpool. With safety already secured, he has set his stall out for a strong end to the season, amid speculation regarding his long-term future at the club.
"I think we have to push a lot with the idea to be competitive," Sanchez Flores added. "When you reach a target it's easy to lose focus. We need to try to be competitive because the competition's not finished.
"Liverpool are an amazing team, they've had a good run and they have a lot of good players. Anfield is an amazing stadium, so we need to be competitive because the other team is very powerful.
"In this moment it depends on us – how is our ambition, how is our idea to try to add points in every single match we have to play. It is necessary to show everyone that we are still fighting in this competition, still with ambition and still with the idea to win the next games."