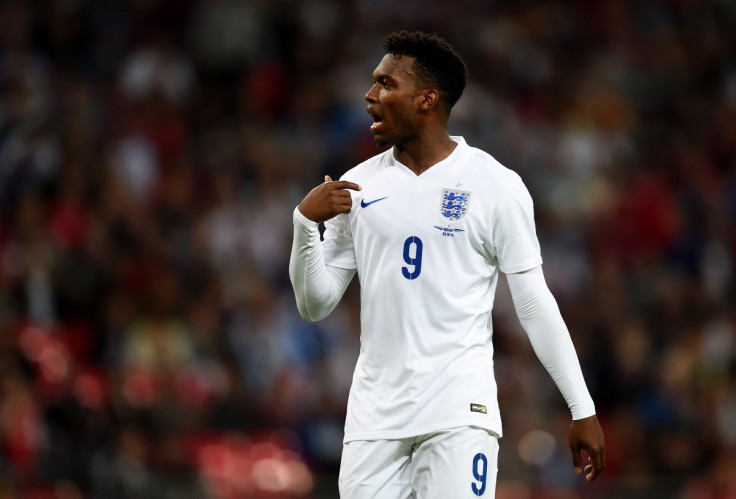 Liverpool striker Daniel Sturridge will not be subject to "extra special care" while with England but is likely to continue with a tailored training programme to ensure he does not suffer another injury.
Sturridge is in line for his first international appearance since September 2014 after being included in Roy Hodgson's 24-man squad for the friendly double-header against Germany and Netherlands.
The 26-year-old has made just four Premier League starts for the Reds this season but despite his recent return to the first team continues to undergo a custom-made training regime. The FA and Hodgson came in for criticism from the Anfield club and then manager Brendan Rodgers for miss-managing Sturridge's fitness following his last England cap against Norway, following which he picked up a thigh problem which led to him not playing again in 2014.
Jurgen Klopp says Sturridge is currently working through a programme which is designed to keep him injury free while his sporadic appearances since making a return to full fitness highlights the caution Liverpool have over his injury history. Hodgson admits that the forward will not be subject to special treatment but he will continue with the fitness plan devised by the Merseyside club.
"It will be interesting to see how Daniel is," he told reporters after confirming his final squad before he selects his travelling party for the European Championships. "We haven't seen him for a long time. His record with England in terms of the time he has spent with us, training sessions and games he has played for us has not been too bad.
"Up to that time when he did get injured and we had to send him back injured. We haven't really seen him since then. He turned up for one other camp after having got fit but he picked up a knock on the Saturday and had to go home again.
"So it will be interesting to see how it is with Daniel. We won't be looking to take extra special care with him any more than we do with any of the players. But we will be aware of what he needs and what perhaps he has been doing to improve his chances of playing every week at Liverpool.
"We will certainly be taking that into consideration and continue with that type of programme, but we do that with everybody. It would be wrong to single out Daniel for that and I am hoping that he has got over the traumatic period that he has had in the last year and a half and he will be once again the player we had in the spring of 2014."
Sturridge is one of five strikers selected in Hodgson's latest squad, which does not included a place for injured captain Wayne Rooney. Arsenal pair Theo Walcott and Danny Welbeck, Tottenham Hotspur's Harry Kane and Leicester City hitman Jamie Vardy accompany the Liverpool frontman.