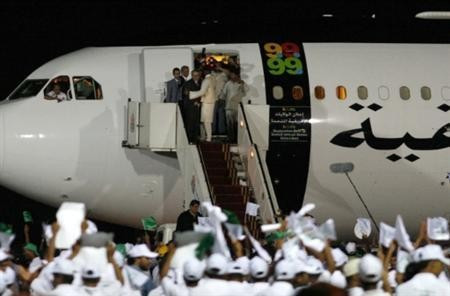 The Daily Mail reports that the father of a girl who died in the Lockerbie bombing believes the same U.S. Navy SEAL squad that killed Osama bin Laden could be deployed to kill Lockerbie bomber Abdelbaset Ali Mohmed Al-Megrahi.
Dr. Tim Squire said that he fears Navy SEALS could shoot dead the convicted terrorist, who served eight years of his 27-year sentence for killing 270 people -- most of them Americans -- aboard Pan Am Flight 103 on Dec. 21, 1988. He was sent back to Libya two years ago.
Squire's daughter Flora was killed and her father has led a long campaign on behalf of the Lockerbie victims' families.
"I was very worried Megrahi would be killed by a NATO missile as I am well aware the American government loathes this man. More recently, we had a small group of U.S. senators getting Obama to say that Megrahi needed to be extracted from Libya for trial in an American court because the Scots had botched the job," he said.
"I am worried for him. I can just see the unit they sent to kill Osama bin Laden being sent to extract Megrahi," he continued.
A new poll has showed that two in three Scots want the Lockerbie bomber returned to prison. The Panel base poll shows 48 percent of 1,121 adults questioned in the UK said he should be returned to jail; 32 percent said he should be returned to a Libyan jail with 64 percent of the poll stating they believe him to be guilty of the crimes.
"This poll and comments from Libya's newly recognized [rebel] government show how wrong this decision was and why it is time for Alex Salmond, on the second anniversary of al-Megrahi's release, to apologize finally to the relatives of the victims," Scottish Labour leader Iain Gray said.
The bomber, freed on grounds of supposed terminal illness, has also reportedly seen a further development in his cancer. A Libyan government official told the Mail on Sunday: "His health has taken another turn for the worse after doctors discovered a growth on his neck.
"For the cancer to reach a part of the body so far away from the prostate confirms that Brother Megrahi's body is now ravaged by the disease," he added.
On Saturday, it will be exactly two years since his release.
For more information on the continuing Libyan conflict click here.