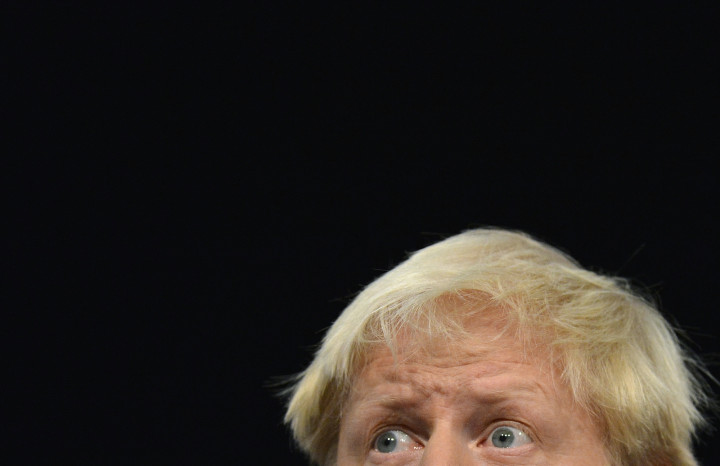 Mayor of London Boris Johnson plans to run for election to government in November 2015 and also to stand down from the mayoralty when his term ends in May 2016, the great question is – who will fill his shoes as head of Britain's number one city?
If elected to a seat in the Commons next year, Boris plans to serve as both Mayor and an MP for a year, following in the footsteps of his predecessor Ken Livingstone who remained in Parliament for a year after winning the inaugural Mayoral contest in 2000.
So it's likely the next candidate won't let having another job get in the way of running one of the world's major cities.
The Labour candidate is unlikely to be Ken Livingstone this time around, however. The party's politics in London have been dominated by Livingstone for a generation. The former Mayor stood in all four mayoral elections, winning two, but announced in 2012 that he would not contest a fifth.
His announcement opened the door for a battle to the Labour nomination, which is still raging with no big-name party member officially declaring their intention to run.
Shadow Justice Secretary Sadiq Khan is expected to make a bid, as is Tottenham MP David Lammy, who became a household name following the riots in London in August 2011.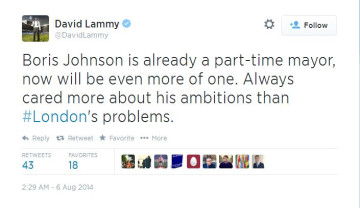 Lammy took to Twitter, following Mayor Johnson's announcement, to criticise the Conservative party member for being a "part-time mayor".
"Boris Johnson is already a part-time mayor, now will be even more of one. Always cared more about his ambitions than #London's problems," he wrote.
Former Olympics minister Dame Tessa Jowell could also emerge as a credible candidate, as could Diane Abbott, MP for Hackney North and Stoke Newington, who became the first black woman to be elected to the House of Commons.
Betting organisation Paddy Power has released its odds on who will win the 2016 mayoral contest, and it puts Tessa Jowell out in front, with odds of 3/1 that she will win the acclaimed position. Those betting on Sadiq Khan to win will play odds of 8/1; David Lammy 12/1 and Diane Abbott just 33/1.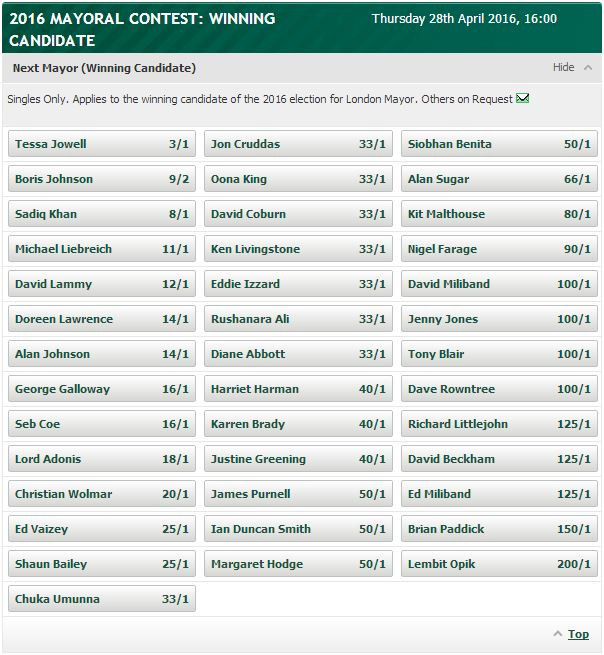 Comedian and Labour party supporter Eddie Izzard – despite being named Ed Miliband's "top choice" when he voiced his intention to run at the Labour party conference in 2012 – will not stand in 2016, though he says he intends to seek election in 2020.
From the Conservative party, Lord Sebastian Coe, Chairman of the British Olympic Association, has been tipped to run in the past, despite saying he "wouldn't return to politics". It is believed that senior Tory members would back a bid by Coe, following the electorate's high regard for him after the 2012 Games.
But when asked about whether he would consider running for the mayoralty, Coe said in April: "My answer is consistent. I am no longer interested in a career in politics – just sport politics."
Shaun Bailey, the Conservative government's Communities and Youth Engagement Champion, is reported to be seriously considering running for Mayor in 2016. In a BBC London radio debate, Bailey said: "David Cameron sees me as a black leader who can win the black vote."
Paddy Power pitches Bailey to win the election with odds of 25/1.
George Galloway from the Respect party will cause a media stir if he officially announces that he will run for election to the post. He revealed last year that he is seriously considering standing and may not fight to retain his Bradford West seat in the 2015 General Election.
The Respect MP said he has formed a committee of his party members to look at whether or not he should mount a bid to become Mayor of London in 2016. "I would never have stood against Ken", he said, "but the names being mentioned aren't that impressive in my view." Galloway is tipped 16/1 to win in 2016 by Paddy Power.