Sadiq Khan is six points ahead of rival Zac Goldsmith in the race to become the next Mayor of London, according to a new poll, boosting Labour's hopes of winning what will be the first key political battle in 2016. The YouGov survey of more than 1,000 Londoners found 53% backed Khan, compared with 47% who preferred Goldsmith.
The poll, which first appeared in the Evening Standard on 4 December, found Khan was preferred by women voters, with a split of 57% to 43%. Voters aged 18 to 24 also backed the MP for Tooting, with 71% suggesting they would vote for him in the May 2016 election.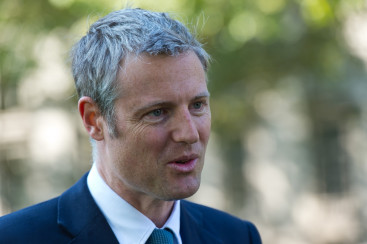 The poll came out the same day Jeremy Corbyn hailed Labour's win in the Oldham by-election on as a sign of the party's "deep-rooted support". The leader will be hoping this latest poll will show Khan is similarly able to galvanise support on the ground in London.
Almost a third of Londoners remain undecided on who to back, though, and the YouGov survey saw Goldsmith fare better than Khan among older voters, who traditionally have a higher voter turnout rate. They gave the MP for Richmond Park and North Kingston a 58% to 42% split against Khan.
The run up to May's election will see both candidates campaign for hard-to-win votes, with housing polling as the most important issue for Londoners. Following closely was immigration, at 43%, then crime and transport on 26% each. Meanwhile, health polled at 21%.
Goldsmith has in the past admitted it will be a "huge challenge" to beat Labour in the mayoral election. He has attempted to win voters by saying he will prioritise housing and allow more local say over big planning decisions. Khan has joined his rival in opposing to the expansion of Heathrow Airport and has tried to entice voters with a number of policy pledges, including freezing travel fares.