The world's fastest man, Usain Bolt, led Jamaica to gold in the men's 4x100m relay and helped break the world record in the process.
The Jamaicans were neck-and-neck with the U.S. before the final 100m, but when Bolt took the baton there was never any doubt about the winner, as he stormed past American Ryan Bailey to finish in world record time of 36.84 seconds. The Americans took silver with 37.04 and Trinidad and Tobago collected bronze with 38.12. Canada had finished third but were disqualified after Jared Connaughton was adjudged to have stepped outside his lane during his sprint.
Bolt's heroics on the day were matched by his teammate Yohan Blake, who ensured American Tyson Gay was caught and reeled in ahead of Bolt's run.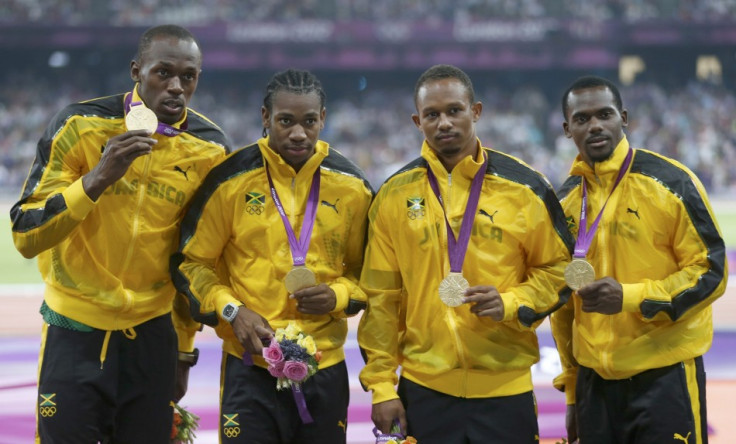 "Once Yohan got the baton and was right next to Tyson, then the race was all over. Then it was just a matter of how fast we were going to run," Jamaica's second leg runner Michael Frater, said after the race.
When asked how he felt about his country breaking yet another world record, Blake replied: "We're not normal. To run 36 [seconds] is not normal."
In any case, this win means Bolt now has six Olympic gold medals and the 25-year-old is the first track and field athlete in Olympic history to defend the 100m, 200m and 4x100m relay titles successfully.
The U.S. team, meanwhile, declared themselves pleased with their performance and Justin Gatlin, who ran second for his country, warned the Jamaicans of an even sterner challenge when the two countries meet next.
"We went out there and we put on a great show. We broke our American record [of 37.40s] twice. That American record was standing for 20 years before we even touched down in London. To leave London with a 37.04s, which was the world record last year, it shows that America is getting [itself] together. We're back and we want to put on a great show for next year [in the world championships] as well," Gatlin said.