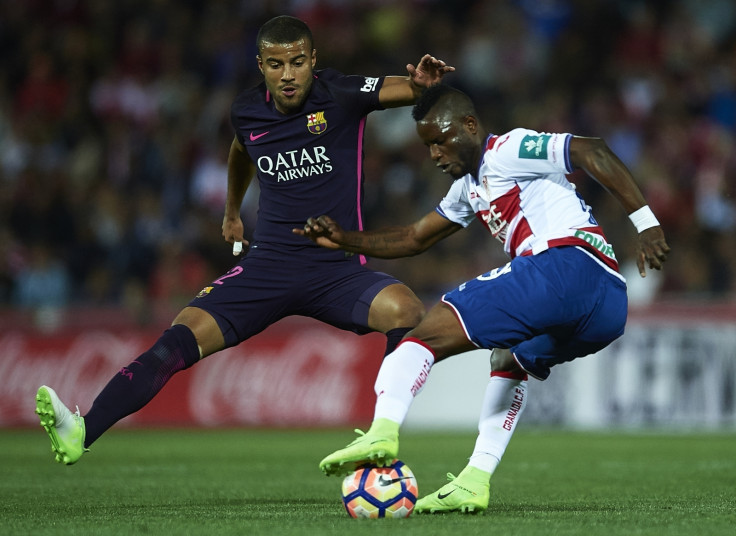 Long-term Barcelona casualty Rafinha Alcantara is said to be ready to continue on the sidelines for at least two more months.
The recovery from his serious knee injury has not been going as scheduled and Spanish publication Sport reports that, in a best -case scenario, Ernesto Valverde will have the versatile midfielder available in November.
Rafinha, 24, already missed the final part of last season after suffering a serious injury to the internal meniscus during a 4-1 win over Granada on 2 April.
Days later Barcelona ruled him out for around four months after the Brazilian was forced to go under the knife to correct the issue.
"At midday on Friday local time the first-team player Rafinha underwent arthroscopic surgery on his right knee to resolve an injury to the internal meniscus. The operation was carried out by Dr Ramon Cugat and Dr Ricard Pruna. The player will be out for around four months," Barcelona then confirmed though an official statement.
The news was a big blog for the 24-year-old midfielder after he had already missed much of the previous campaign due to a cruciate ligament picked up in the same knee during a Champions League game against Roma in September 2015.
Yet, Barcelona were then still optimistic Rafinha could be back in August [four months] in a bid to be available for new manager Ernesto Valverde since the very first day of the campaign.
However, the recovery has not going as expected with the midfielder being still on the sidelines five months and a half after suffering the injury.
Last week Valverde said that he expected to have Rafinha back in the squad soon, but refused to set a timeframe on a recovery.
"I do not have an exact date [for Rafinha to return], we are waiting for him since the beginning of the season and we hope he can be with the group soon. We have to keep waiting, I can not say anything else," the Barcelona boss said in a press conference ahead of their La Liga clash with Eibar.
Sport now says that Rafinha has not been at the Barcelona training ground since 8 September and is yet to start the last phase of his recovery on the pitch.
The midfielder is instead still working in the gym and the Spanish publication says that at some point he even considered undergoing another operation if things didn't improved.
Sport says that Barcelona have finally ruled out that drastic measure but Rafinha will still be unable to return to action until at least November.