Ernesto Valverde names alternatives for long-term Barcelona casualty Ousmane Dembele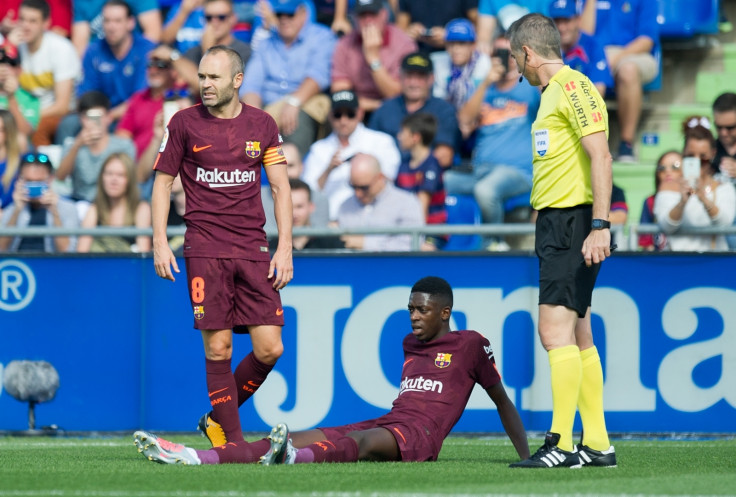 KEY POINTS
Gerard Deulofeu, Aleix Vidal, Denis Suarez or Andre Gomes could replace Frenchman against Eibar.
Manager suggested that he could even promote someone from the B team to fill the gap.
Rafinha Alcantara remains unavailable to face Eibar but Valverde expects to have him back soon.
Ernesto Valverde has backed Barcelona to cope without long-term casualty Ousmane Dembele, stating that he has a number of alternatives to replace the Frenchman ahead of the coming La Liga visit of Eibar on Tuesday night (19 September).
Dembele moved to the Nou Camp during the summer transfer window in deal worth €105m (£92.9m) plus €40m in add-ons after being identified as the man to fill the gap left by Neymar's departure to Paris Saint-Germain.
However, the 20-year-old winger will be unable to help his new side until 2018 after he suffered a muscle injury during Saturday's 2-1 victory over Getafe. It is expected to keep him on the sidelines for between "three and a half months and four months".
The situation has set alarms bells ringing at Barcelona following the club's unsuccessful attempts to bolster the position during the summer with the likes of Liverpool star Philippe Coutinho or PSG's Angel Di Maria.
However, Valverde has played down the concerns of the Barcelona fans, naming four first-team players who could replace Dembele, while suggesting that he could even have a further alternative by promoting someone from the B-team.
Gerard Deulofeu was the chosen one to replace the Frenchman at Getafe, while Valverde suggests that Aleix Vidal, Denis Suarez and Andre Gomes could also cover the role when Eibar visit the Nou Camp on Tuesday night.
"We have several players on the team that can play in that position. Deulofeu, Aleix Vidal, Denis, Andre. We will look for alternatives to put together a starting XI. We will also look to the second team. I prefer to focus on my [first-team squad] but it's clear that we always look with an eye to the second team," Valverde said in the press conference ahead of the coming La Liga clash with Eibar.
"It's the hardest thing for a player, if you get injured and you're out of action for a long time, you need to be patient, you need to spend a lot of time on your own, and looking at how things develop, there are some days you feel better and other days not so good. But Ousmane Dembele is a youngster. And this is another difficulty he's going to need to deal with in his career. And we are all here to help and support him."
There have been suggestions in Spain that Dembele picked up the injury before the game after being filmed complaining about his hamstring in the pre-match warm-up. Meanwhile, Barcelona technical secretary Robert Fernandez suggested the poor condition of the pitch was to blame.
Valverde, however, said: "I don't think we need to read too much into things like this. When players are warming up, they stretch their thighs and their knees, their hamstrings. He's a player who has never had muscle problems in the past, so he perhaps doesn't have the experience to recognise those little discomforts that he may have. He's a player who is very fast and the movement he made was one of the worst things you can do for your hamstring. It's not to say that it was normal, but there is a greater probability to be injured when you make a move like that, and a veteran player may have avoided that knowing that that movement is a very aggressive movement. I know that because the same thing happened to me when I was a player."
"I don't think the condition of the field had any decisive role in this particular incident, but yes, I would like all fields to be in the same kind of condition. I think it would be good for the game."
Rafinha Alcantara could have been another option in Valverde's ranks to replace Dembele if he was fit. However, the Brazilian international is also unavailable to face Eibar as he continues the recovery from a serious knee injury he suffered in April.
Valverde expects to have the versatile midfielder back soon but refused to set a timeframe on a recovery.
"I do not have an exact date [for Rafinha to return], we are waiting for him since the beginning of the season and we hope he can be with the group soon. We have to keep waiting, I can not say anything else," the Barcelona boss said.
© Copyright IBTimes 2023. All rights reserved.