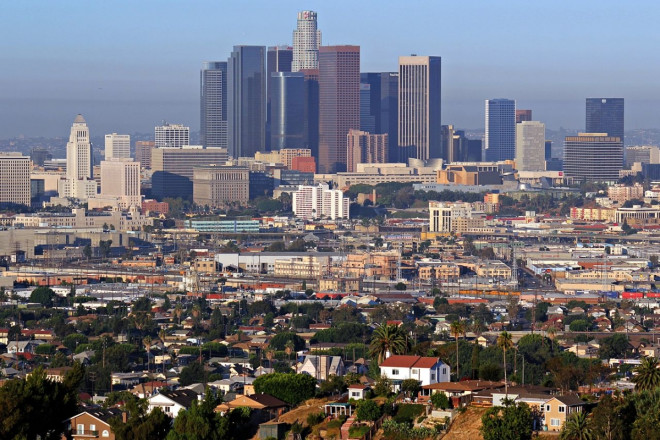 Thousands of people will be killed and hundreds of thousands made homeless if a 7.5 magnitude earthquake were to hit the Puente Hills thrust fault line in Los Angeles, experts have warned.
Researchers at Nasa's Jet Propulsion Laboratory, Pasadena, California, have developed a model of what effect an earthquake of this size would have on the surrounding area.
Based on seismic information from the US Geological Survey, results show catastrophic damage, with up to 18,000 dead and a bill of $250bn (£150bn) in damages.
Hundreds of thousands more would be left homeless after the earthquake destroyed homes across the Southern Californian area.
At the end of last week, people in Los Angeles were hit by a 5.1 magnitude earthquake – the strongest to affect the area since 2008 – along with hundreds of aftershocks.
The earthquake is believed to be linked with the Puente Hills thrust fault line which does not break the surface and zigzags from Orange County to downtown Los Angeles, approximately 5.6 miles long, 3.1 miles deep and 1.9 miles wide.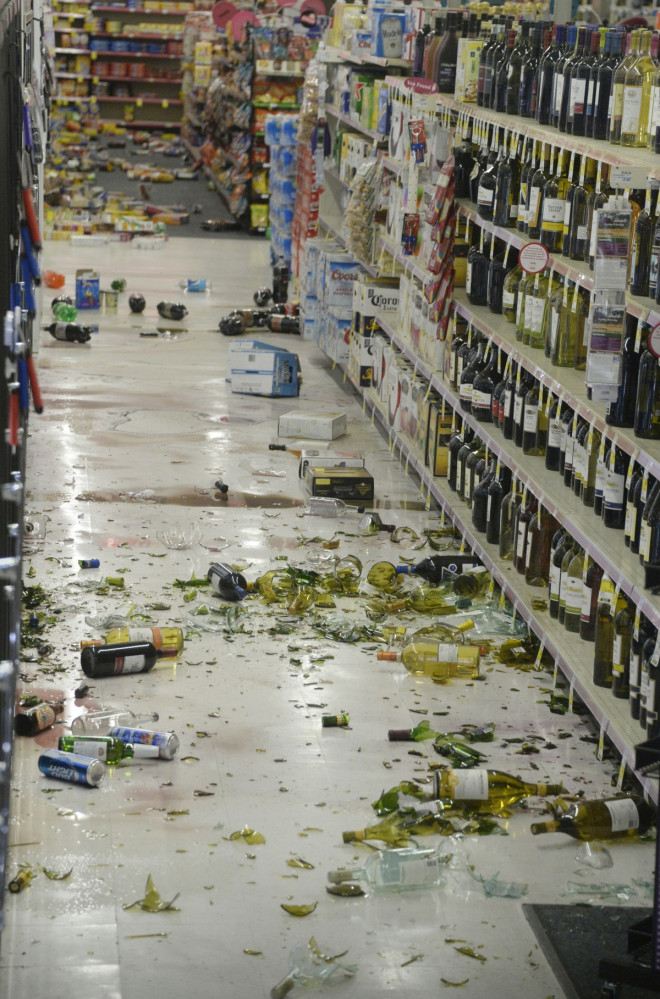 Speaking to the Los Angeles Times, USGS seismologist Lucy Jones said: "The Puente Hills thrust fault is so dangerous because of its location, running from the suburbs of northern Orange County, through the San Gabriel Valley and under the skyscrapers of downtown Los Angeles before ending in Hollywood.
"The Puente Hills fault could be especially hazardous over a larger area because of its shape. Other local faults, like the Newport-Inglewood and Hollywood, are a collection of vertical cracks, with the most intense shaking occurring near where the fault reaches the surface. The Puente Hills is a horizontal fault, with intense shaking likely to be felt over a much larger area, roughly 25 by 15 miles."
Discussing a "worst-case scenario", Jones said a massive earthquake could kill up to 18,000 people and leave 750,000 homeless.
"Scientists believe the Puente Hills fault has a major quake roughly every 2,500 years but don't know when the last one was," she added.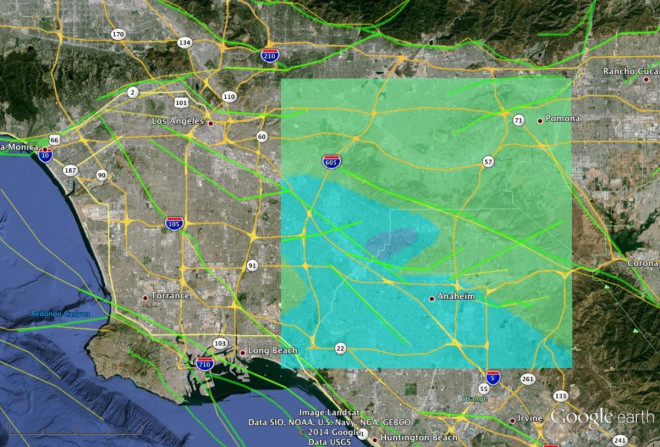 Nasa scientists are now working to further develop their Uninhabited Aerial Vehicle Synthetic Aperture Radar (UAVSAR) map, which work began on in 2008.
"In Nov. 2008, NASA JPL scientists began conducting a series of UAVSAR flights over regions of Northern and Southern California that are actively deforming and are marked by frequent earthquakes. About every six months, the scientists precisely repeat the same flight paths to produce images of ground deformation called interferograms."
The maps allow researchers to develop a rapid response to establish what fault was the source of an earthquake and which parts slipped. "Information about the earthquake source can be used to estimate what areas were most affected by the earthquake shaking to guide rescue and damage assessment response."
Commenting on last week's earthquake, Nasa added: "Scientists now plan to acquire UAVSAR data from the region, possibly as soon as this week, and process the data to validate and improve the results of their model."