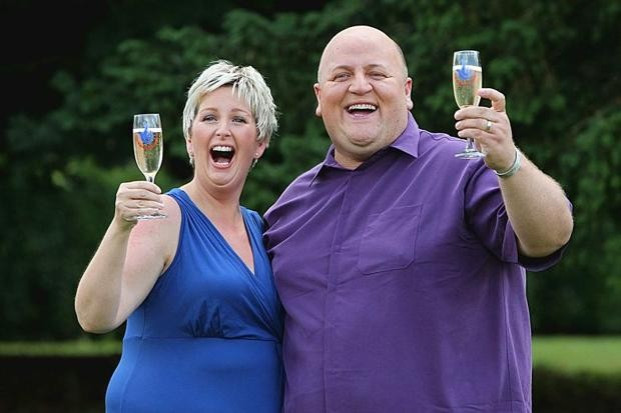 A couple who scooped a £148 million EuroMillions jackpot are divorcing just a year after their colossal win.
Adrian Bayford, 43, and his wife Gillian, 41, who won the jackpot in August last year, have split because their marriage had "broken down irretrievably".
The couple, who have two children, are now living in separate mansions with Mr Bayford moving out of their £6 million Georgian mansion and into a four-bedroom house in Suffolk.
Upon winning the huge sum, the Suffolk pair said they hoped that it would bring their family together and celebrated in modest fashion with a Domino's pizza and an easyJet flight to visit Mrs Bayford's family at a Scottish caravan park.
"Gillian confirms that her marriage to Adrian has broken down irretrievably and they have separated," a spokesman for Mrs Bayford said today.
"Gillian will be giving no further comment about this matter either now or in the future".
The lotto win transformed the couple's lives, catapulting them to 488th on the country's Rich List at a value of £23 million more than Eric Clapton and placed just below Ringo Starr.
Mrs Bayford previously worked night shifts in a hospital and Adrian ran a shop selling musical instruments and second-hand records.
After winning the money, Mrs Bayford said at a press conference: "Neither of us can quite comprehend just how much £148 million is. We have always worked and saved up for holidays, or things that we need.
"We have lived within our means and been comfortable but we have been like ships in the night to earn the income we needed.
"It will be fantastic to spend more time as a family now. This money has come at the right time for us and is going to benefit the whole family.
"The win is not just for us, it is for us to share and everyone's life is going to be so much more enjoyable and stress-free."
Mr Bayford continued to run his independent music shop in Haverhill for six months after the win but closed it six months on, having been flooded with abuse and people begging for money.
Those close to the family today said they had "suspected for some time that all is not well in the marriage".
A source told The Sun: "It's such a shame because they are a lovely family with two young kids. And everyone around here was so happy for them when they won.
"They worked hard all of their lives and then came into this wonderful bit of good fortune. That's why it's so sad it's ended like this."