Louis van Gaal Favourite Wesley Sneijder Could Leave Galatasaray on a Free Transfer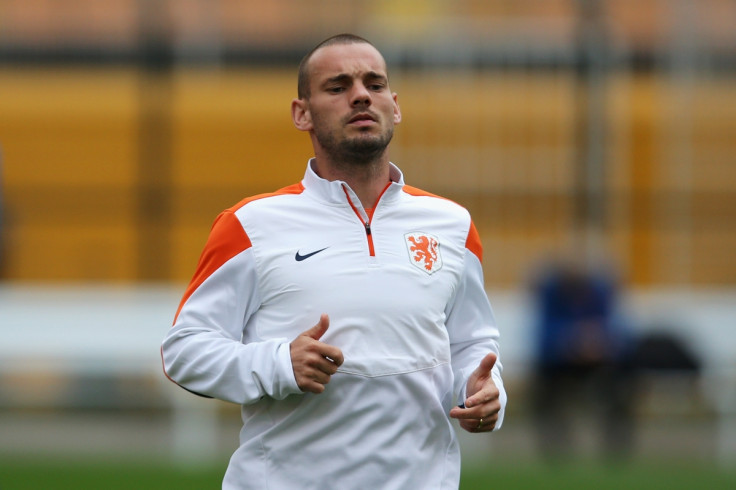 Netherlands midfielder Wesley Sneijder will be able to leave Galatasaray on a free transfer should the club not pay the player his outstanding wages that total €1m (£790,000).
According to the player, Manchester United manager Louis van Gaal was keen to bring the 30-year-old to the club during the summer transfer window.
Sneijder insisted he turned down the overtures of his former national team coach in order to play in the Champions League with Galatasaray, but the Turkish club's deteriorating financial position has left his future at the club in severe doubt.
Dutch daily De Telegraaf suggest the former Ajax and Real Madrid star has not been paid for more than three months, a situation that hands the player the opportunity to cancel his contract with the club.
According to Fifa's Commentary on the Regulations for the Status and Transfer of Players, a period of three months without receiving salary serves as just cause for a contract termination.
In defining examples of just cause, the ruling states: "A player has not been paid his salary over three months. Despite having informed the club of its default, the club does not settle the amount due. The player notifies the club that he will terminate the employment relationship with immediate effect.
"The fact that the player has not received his salary for such a long period of time entitles him to terminate the contract, particularly because persistent non-compliance with the financial terms of the contract could severely endanger the position and existence of the player concerned."
Galatasaray have fallen foul of such clauses in the past. In 2005 France international Franck Ribery failed tor receive wages for four months – a figure totalling €262,000 – prompting him to terminate his contract and join Marseille. The decision was eventually upheld by the Court of Arbitration for Sport who ruled that the Turkish giants had failed to comply with their financial obligations to the player.
Sneijder recently admitted he has not been paid by Galatasaray.
"It is true that I did not get the money," he told reporters ahead of Netherlands' European Championships qualifier with Kazakhstan.
"Galatasaray is working to bring the finances in order. My management is trying to find a solution with the club."
© Copyright IBTimes 2023. All rights reserved.